News/Photo
Engagement session on Licensing Activities
With the passing of the Poisons Amendment Act (2022), the Pharmacy enforcement division engaged stakeholders on the changes that will have an impact on the activities for poison licence holders. MAPS attended "SESI LIBAT URUS AKTIVITI PELESENAN" For Acta Racun Pindaan 2022 on 14 October 2022 8am to 12.30pm, together with other industry players.

Significantly, the roles of registered and licensed pharmacists are mentioned. A brief email has been sent out to all members. If you wish to have a copy of the actual act you can download it from the AG Chambers' website here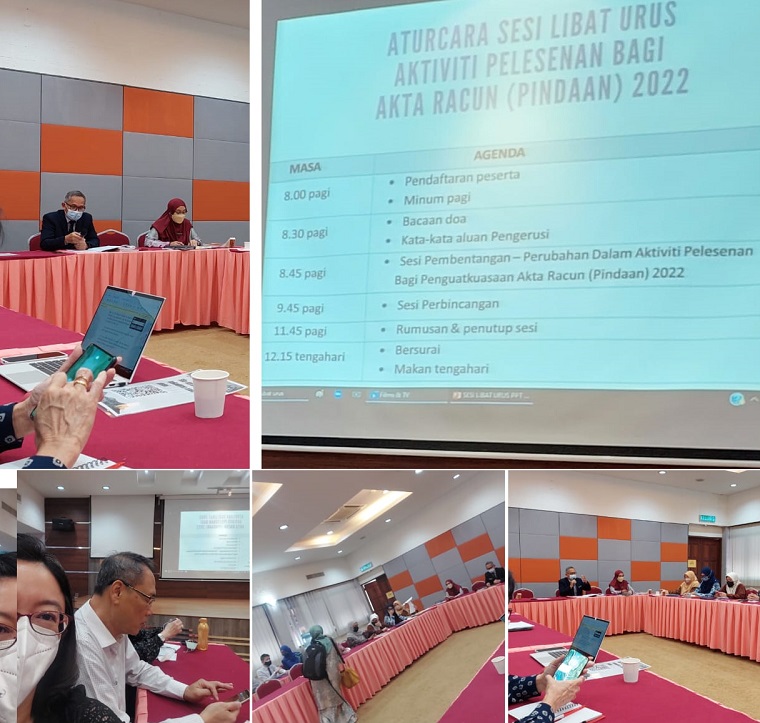 MAPS CEO and Senior Managers Networking 1.0 2022
After over 2 years of various stages of MCO's plus with the lowering case load and and severity, and aided by high vaccination rates, MAPS Social and Sport committee has organised a luncheon for the members and guests to come together for networking. Many changes have taken place in the business environment under the new normal, and this event was aimed at being an opportunity to catch up to discuss the challenges so as to get ideas on how to better manage the business in the new environment. Of course also a time to enjoy some unique food as we talk informally.

For this MAPS CEO Networking lunch held on 12 October 2022, total participation of 30 CEOS & Senior Managers from 20 companies attended the Networking lunch. Issues are being discussed in an informal and lively manner. It is hoped that there will be more opportunities for such networking sessions, and potential members are welcome to join us.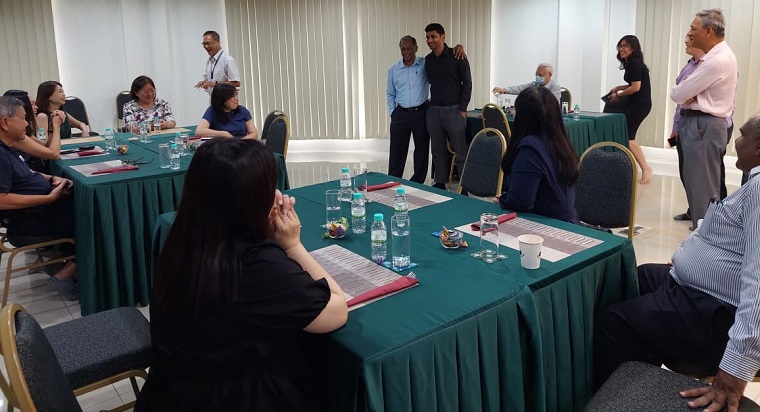 BEDE Dialogue with NPRA
A joint industry MAPS & MOPI dialogue with BEDE department of NPRA was held from 2:30pm to 4:30pm on 27 September to discuss on issues faced with regards to Bioequivalence Desktop evaluations matters.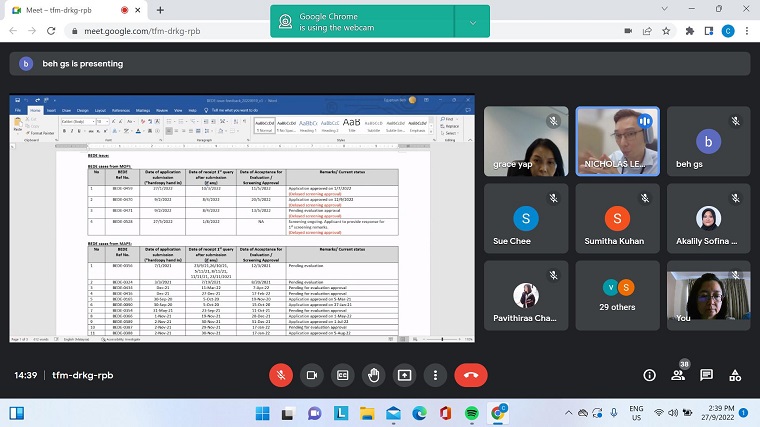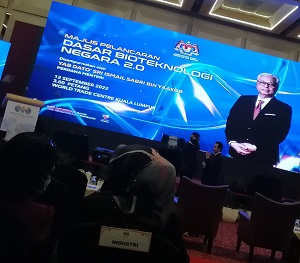 Launch of the National Biotechnology Policy 2.0 (DBN 2.0)
The National Biotechnology Policy 2.0 was officially launched on 12 September 2022 (Monday) by the Prime Minister of Malaysia, YAB Dato' Sri Ismail Sabri bin Yaakob at the World Trade Center Kuala Lumpur.

DBN 2.0 is an extension of the National Biotechnology Policy 2005-2020 which focuses on 3 main sectors which are Agriculture Biotechnology & Food Security, Industrial Biotechnology & Circular Economy and Healthcare Biotechnology & Wellness. The DBN 2.0 was attended by more than 300 representatives from the Ministry/agencies, industry, academia. MAPS president attended the event.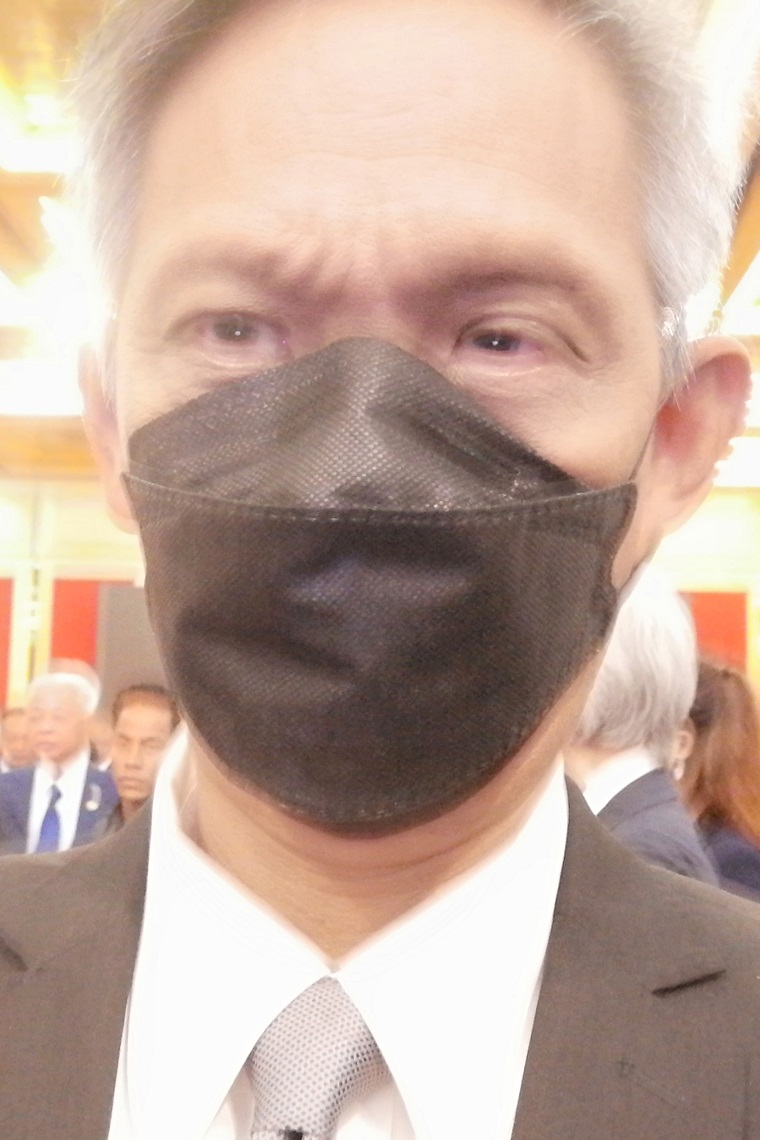 24th International Generic and Biosimilar Association - Malaysian Association Organisation of Pharmaceutical Industry Conference 2022
MAPS attended the 24th IGBA-MOPI Conference held on 7-9 September 2022, with topic ranging from Generic and biosimilar medicines, from central to patient health to global healthcare policies.

The IGBA-MOPI Conference 2022 has been organized by the Malaysian Organisation of Pharmaceutical Industries (MOPI), an associate member of IGBA from 7th - 9th September 2022 @ Royale Chulan Kuala Lumpur.

The Conference brought together around 250 experts and leaders from the manufacturing industry, government agencies, NGOs, academia and other stakeholders to participate in vibrant discussions and knowledge-exchange sessions on issues, trends and policies that shape the off-patent industry today.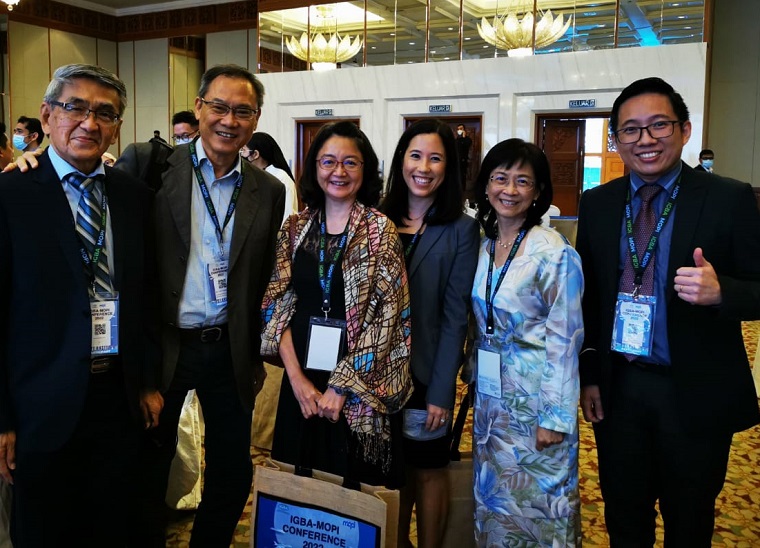 MESYUARAT CADANGAN TAKRIF AMALAN FARMASI
The Pharmacy Act 1951 must be reviewed and updated accordingly as the Practice of Pharmacy has evolved and transformed since then. The Act must anticipate the positive changes of the profession, practise and behaviour of the healthcare demands. It must be made relevant for now and the future. It will have the impact on the total healthcare system for the well being of the Rakyat and Nation. Mr TC Lim and Dr Choe Tong Seng were both invited to be part of this meeting held at the Pharmacy Services Program premise.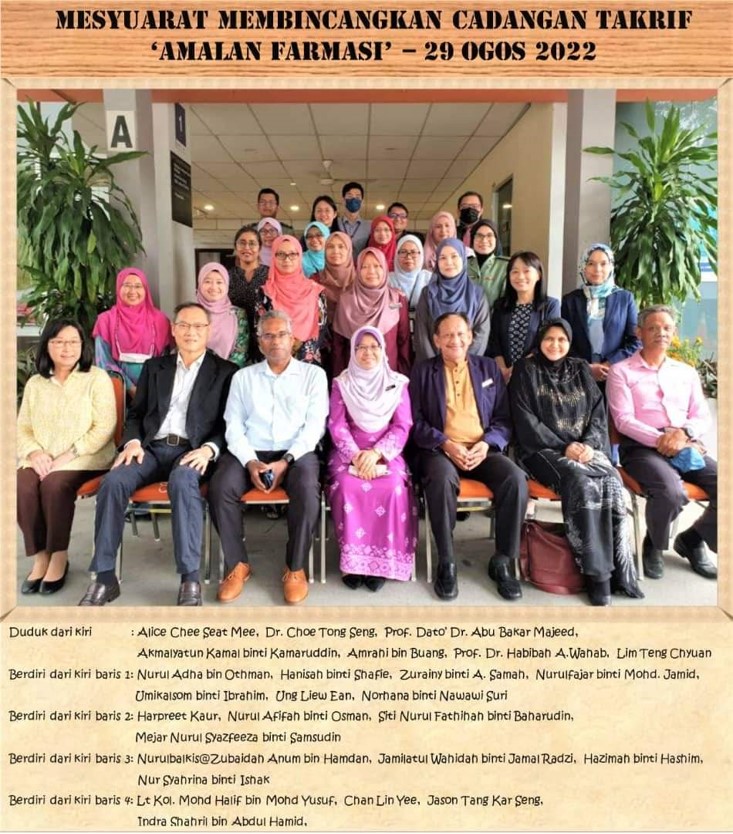 Health Policy Summit 15-16 Aug 2022
There is an increasing momentum on the formulation of the Health White Paper, which saw a major two day summit held at the Putra World Trade Center. The Prime Minister officiated this summit, while the Health Minister also took part in presentations, and panel discussions over both days. MAPS was invited and participated in this summit from 15-16 August 2022, which discussed about :
Health System Resilience- Innovation, Equity and Sustainability
Bridging "Health" back to healthcare
Health and healthcare throughout the age spectrum
Towards sustainable healthcare financing
Human resources for health
Realizing the call for "Whole of Society" in health outcome
Digital transformation: reimagining healthcare
The future of our healthcare, key area for reform: Service delivery & access, Financing , Governance.
Eventually all feedbacks will be collated and presented to the top policymakers. This white paper seeks to reimagine heathcare and is expected to set the landscape for the next 15 years, at least.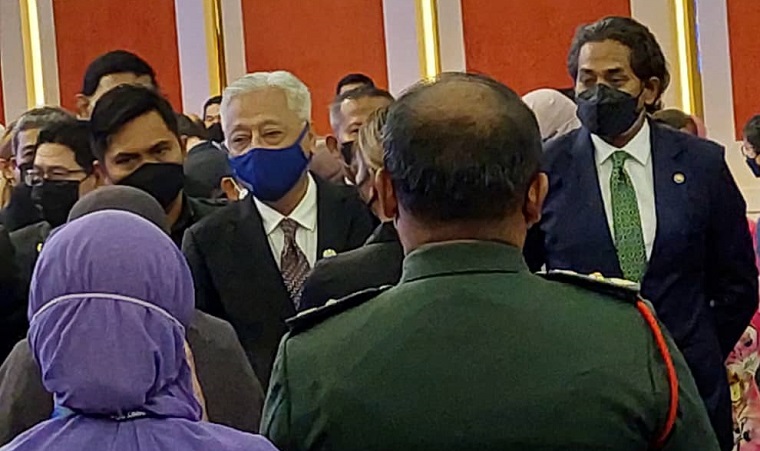 MAPS - MOPI discussion on common issues - 29 Jul 22
After a long break due to the pandemic, delegates from MAPS and MOPI met again in a face to face event hosted at MOPI's secretariat. It was fruitful meeting where we discussed many issues:
Proposal to MOH on price for tender items in view of weakened currency or increase in global raw materials
Late delivery penalty charges imposed in view of current shortages
Extension of length of time to supply MOH
Release of production and business data to MOH
APPL list be opened up to more players in the light of the shortage of medicines
To discuss on the Nitrosamine Impurity issue
General price control and "patent evergreening" issues
Grandfather products for re-registration
Hologram/QR code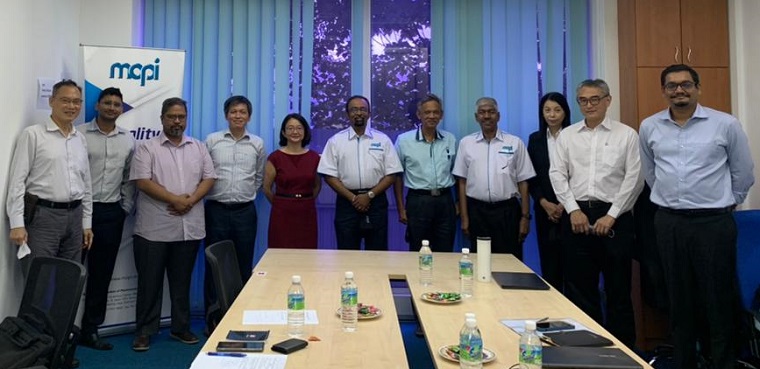 Mesyuarat Kekurangan Bekalan Ubat-ubatan di Fasiliti Kesihatan Primer
MAPS was invited to attend and give our opinions during " Mesyuarat Kekurangan Bekalan Ubat-ubatan di fasiliti Kesihatan Primer". MAPS being a key player in the supply chain of medicines in Malaysia, our views and support is sought after by MOH at a time like this. This meeting was held on 14 July 2022 at 1.30pm to 2.30pm at Bilik Gerakan, Block E7, KKM , Putrajaya with the Health Minister.

Workshop on Access to Affordable Treatment in Malaysia, 5 to 6 July 2022

A two-day workshop was organised by Third World Network at AVANTÉ Hotel, Bandar Utama on Access to Affordable Treatment in Malaysia. MAPS was represented by the President, Secretary and Assistant Secretary. Participants comprised Officials from Ministry of Health, Ministry of Domestic Trade and Consumer Affairs, Malaysian Competition Commission, patient support & advocacy groups, civil society organisations, Drugs for Neglected Diseases Initiative and academia.

The Senior Director of Pharmacy Services Program, Pn. Norhaliza binti A Halim, represented the DG of health in delivering the opening speech. Many topics were covered in this intense workshop, even with speakers joining via weblink from Cairo including:

Malaysia's Hepatitis C Journey
Access to Cancer Medicines: Issues and Challenges
Sustaining the national HIV programme
Patents Act amendments: implications for access to affordable medicines
Lessons from COVID-19 for pharmaceuticals regulation
Progressing Sponsored Clinical Research in Malaysia
From a WTO TRIPS Waiver to the 17 June 2022 TRIPS Decision: An assessment
Regulatory requirements for biosimilars, including WHO Guidelines review
Using Competition Law to Promote Access to Health Technologies in Low- and Middle-Income Countries
Anti-competition behaviour in the market and remedies
Price transparency and affordable pricing
A domestic industry perspective
MAPS Regulatory Zoom Meeting - 28 June 2022
A regulatory meeting was held via Zoom on 28 JUne at 3pm. With a total participants of 30 Rgulatory Affairs staff participatin, the agenda discussed included Product Renewal Market Survey, e-Labelling Costing Impact Survey, Product Marketing Status Survey, Nitrosamine Impurities and drug shortage. 3 Sub-committees were formed to address these matters.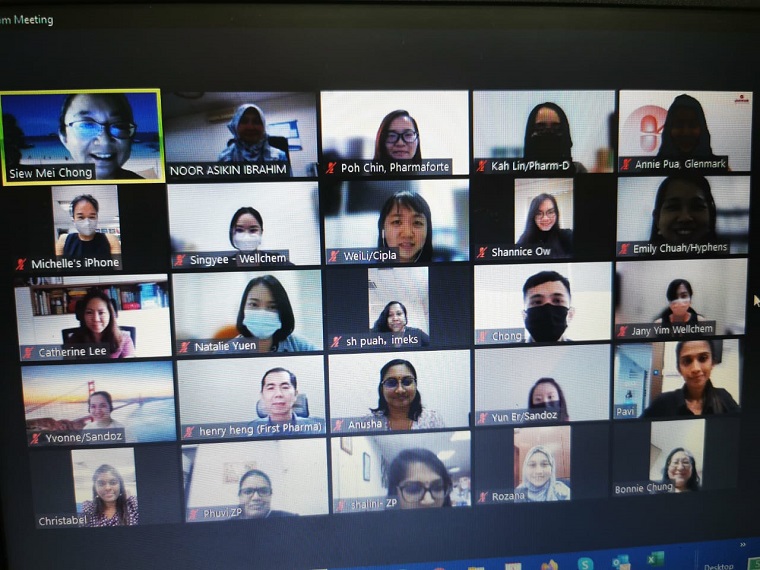 BIO-BASED ACCELERATOR PROGRAMme LAUNCH, 16HB JUNE 2022
MAPS, via the President attended the Bioeconomy Corporation hosted launch of the Bio-Based Accelerator programme on June 16 at the Marriot Putrajaya. The Minister of Agriculture and Food Industries, YB Datuk Seri Dr Ronald Kiandee officiated the launch.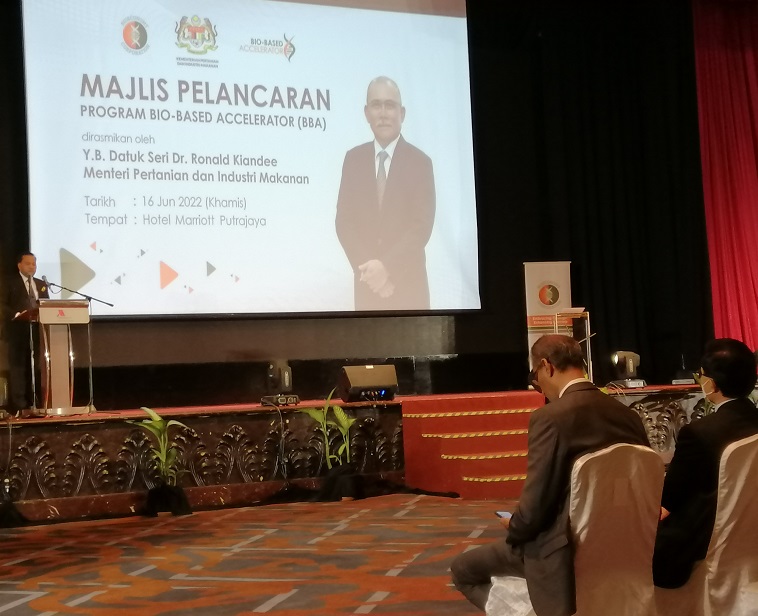 The newly introduced Bio-based Accelerator (BBA) programme helps bio-based companies to become innovative and tech savvy by facilitating them to infuse science, technology and automation in their business operations. This enables bio-based companies in the agriculture, industrial and healthcare sectors to progressively move up the value chain to become more efficient and competitive. This programme identifies gaps in skills, technology adoption, financial, regulatory and product marketability. For more information about this do visit their website, which can be beneficial to members who need the facilitation provided by the Bioeconomy Corporation.
Patents Laws Amendments Webinar 17 May 2022

MAPS participated at Patents Laws Amendments involving pharmaceutical industry webinar organized by MOPI on 17 May 2022. Summary and slides have been shared with all members of MAPS. Do check your email, in case you missed it.
SESI DIALOG BERKENAAN PELAKSANAAN PERMIT IMPORT PERANTI PERUBATAN DI BAWAH PERINTAH KASTAM (LARANGAN MENGENAI IMPORT) 2017
A dialogue had been conducted on 13 May 2022 between Malaysia Medical Device Authority (MDA) with MAPS, MOPI and PhAMA, regarding the implementation of E-permit for each shipment of medical devices, to curb illegal importations of Medical Devices.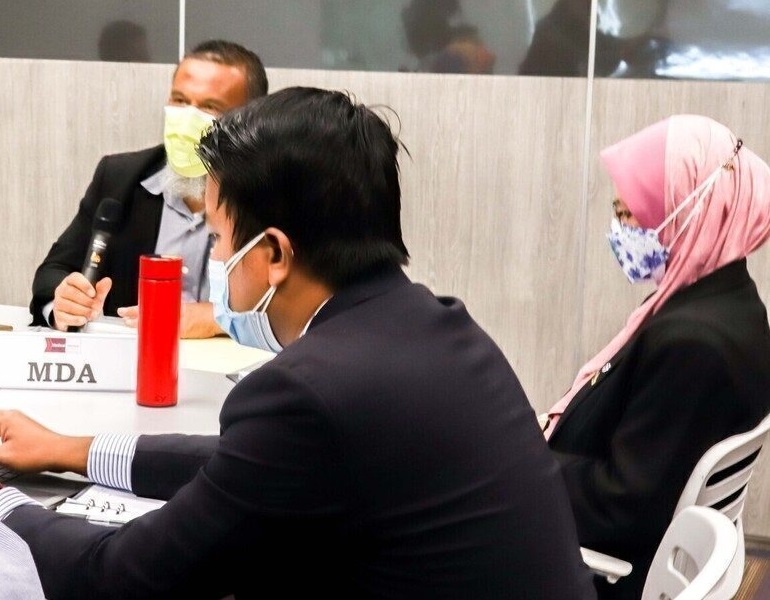 Bengkel Hala Tuju Pendidikan Farmasi Malaysia
This focus group organised by the Malaysian Council of Pharmacy Deans was held at Zenith Hotel, Putrajaya on May 18th. Stakeholders from academia, pharmacy services, industry and military were invited to provide feedbacks to help in formulating the future direction of pharmacy education in Malaysia. MAPS was represented by the President.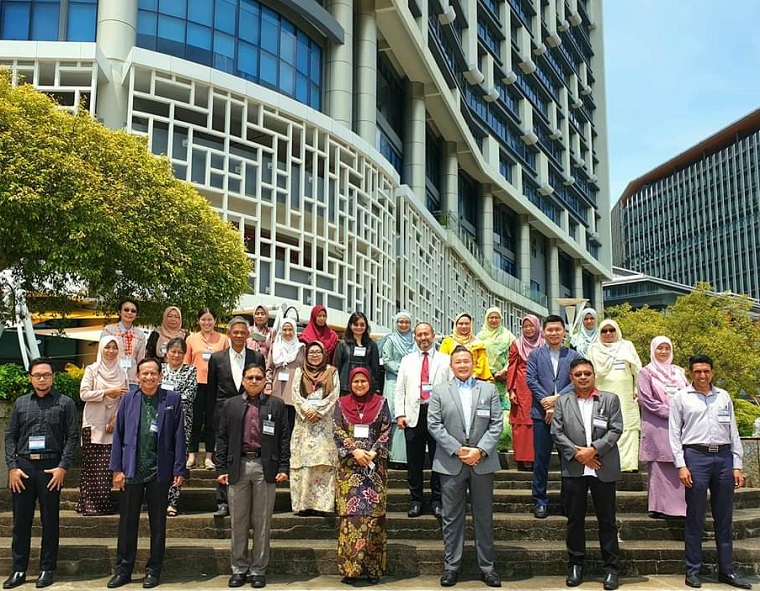 11th Annual General Meeting
MAPS 11th AGM was held on 22nd March 2022 at the Secretariat. There were 23 participants. Annual Financial and Committees Reports were presented. Much time was taken in the discussion for the Regulatory Report. It is important that CEOs are "on-top" of Regulatory issues as there will be financial impact for any delay, new requirements etc in the Regulatory process. It is strongly recommended that CEOs have regular engagements with their respective regulatory personnel, from time to time, for them to understand the impact in financials as well.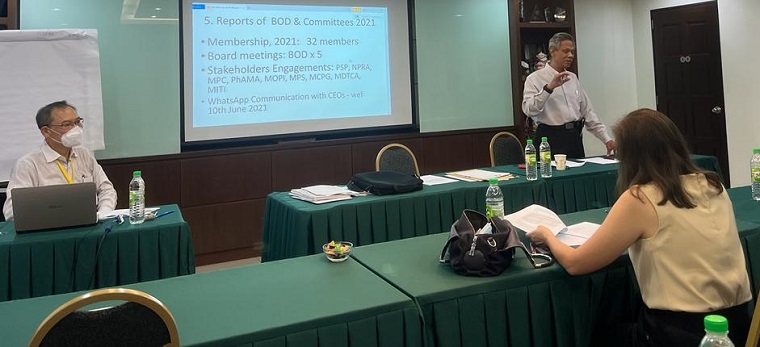 New Industrial Masterplan Industry Engagement
The MITI organised an egagement session on the New Industrial Masterplan(NIMP) at the MITI building on 18th November 2021.

MITI is conducting a study to develop the NIMP which is currently at the draft final report stage. The NIMP will replace the Industrial Master Plan 3 (IMP3) and will set the strategic direction for the manufacturing and the services sectors from now till 2030.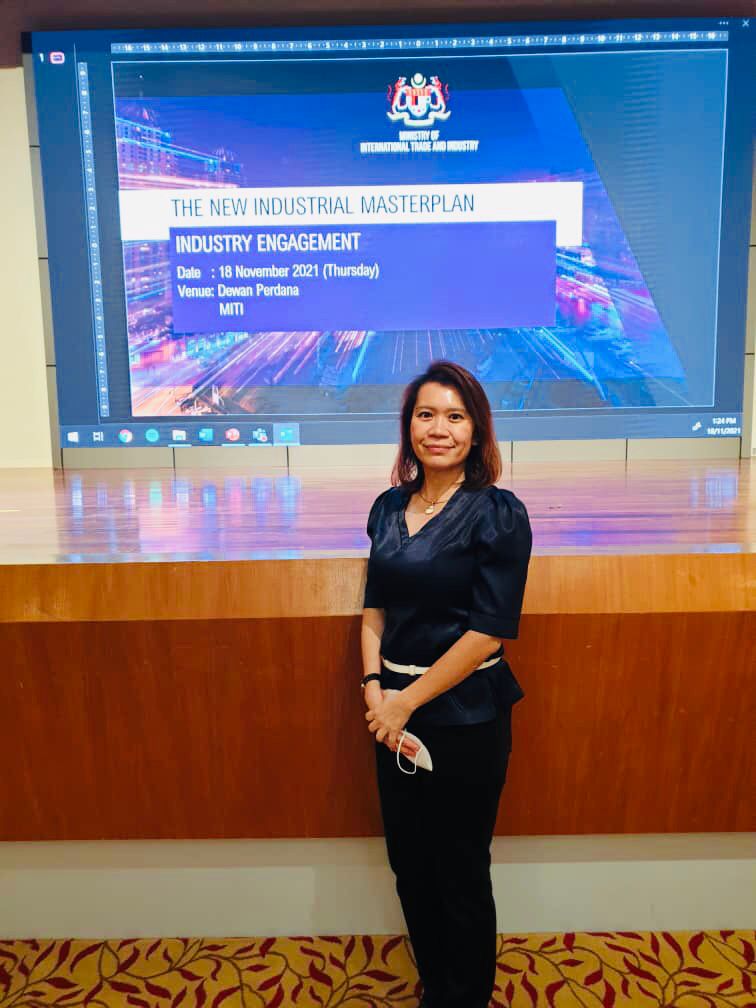 At this stage, strategies and action plans at the national and industry level have been formulated covering approximately 23 industries, of which the Medical Devices and Pharmaceuticals are part of. MAPS was invited to provide feedback and views on the proposed strategies and action plans to help develop a holistic approach to grow and propel.
MAPS provided a formal respoonse via an email in addition to the attendance of the workshop.
M&A and ERP System & Processes Talks, 1st April 2021
Ten member companies sent over 30 delegates who attended this event. Two topics covered in this session are

Topic 1) Corporate Development Strategies: Maximise value or an exit strategy on the following 2 options - Mergers & Acquisitions (M&ampA) or Initial Public Offering (IPO)
Topic 2) An effective ERP system for businesses: The tested and proven ERP System and Handheld Palm Order System. It highlighted Data Analytics, MES Integration, Smart Warehouse, Portal, Web and accounting software.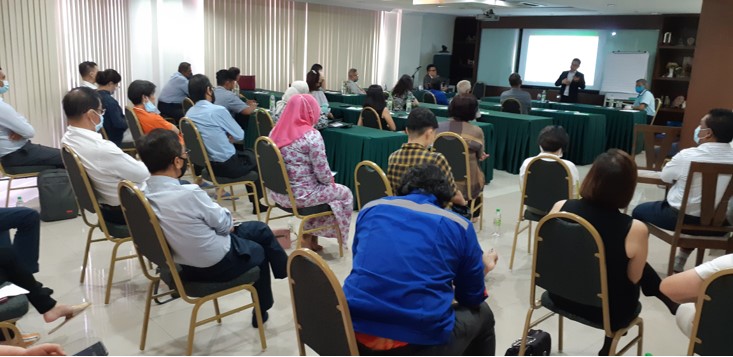 National Covid 19 Vaccination Follow-Up Briefing 26th March 2021
A Web Meeting was held as a follow-up to the earlier briefing by the Minister of MOSTI, YB Khairy Jamaluddin. The meeting was informed that the vaccination program for economic frontliners will be accelerated via a Private Public Partnership. Companies and associations that can gather large numbers will be given priority in this program. To qualify for this program companies need to achieve 80% sign-up rate. Via this the Ministry of Health will send the vaccine teams to specific sites to administer the vaccine. The cost of the team and vaccines will be borne by the government and the cost of setting up the external vaccination centres will be borne by the private partners. More details will ensue.

Other new considerations are for business travellers and students with overseas enrolment to be given priority vaccination, and vaccine choice will be allowed for this group if the country to be visited or enrolled requires a certain vaccine. Business travelers will need to provide prrof of business travel and students will need to provide proof of enrolment.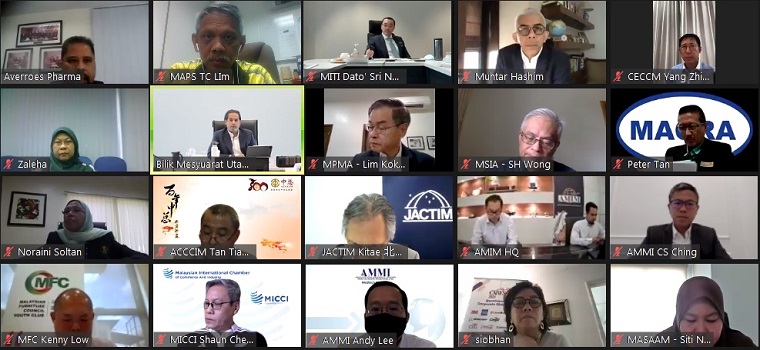 10th AGM 18th March 2021
The 10th AGM was held in the MAPS Secretariat on 18th March 2021. There were 18 member Companies present. Tight and stringent SOPs were enforced. The new Board of Directors were voted in for a new term of March 2021/2024. The President expressed his desire to have more members participating in the activities of MAPS.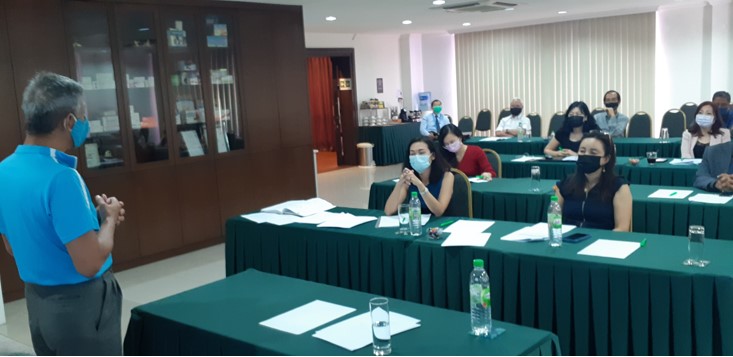 Briefing On The National Covid-19 Immunisation Programme - 4 March 2021

With the arrival of the Covid-19 vaccine, the nation's largest vaccination programme has been rolled out since late February, and registration for the vaccination program was opened via various channels including the Mysejahtera app. This briefing was given by the Minister of Science, Technology and Innovation himself, YB Tuan Khairy Jamaluddin to industry leaders. At the time of the briefing, the number vaccinated has reached over 80,000 individuals, and registration has reached 7% of the population.

The program will be conducted at 4 stages, firstly the frontliners comprising the healthcare practitioners followed by the support frontliners such as those in security. The second stage will be rolled out to those who are at high risk of morbidity and mortality from the infection. Next comes the general eligible population (including foreign workers). Finally the vaccination program will be deployed in managing high risk areas, eg in areas of severe outbreaks

The vaccination program is targeted at 70 - 80% of the population in order to achieve herd immunity. This is projected to be achieved within 1 year of the vaccination program, subject to vaccine supply being consistent.
Meeting with Malaysian Productivity Corporation on the CBA 16 Feb 2021
Following a series of joint industry meetings, it was agreed that the joint industry comprising MAPS, MOPI and PhAMA would meet with the MPC to discuss the way forward following the Cost Benefit Analysis (CBA) for the medicine price control proposal. We are pleased to note that the MPC is agreeable to conducting a more comprehensive CBA.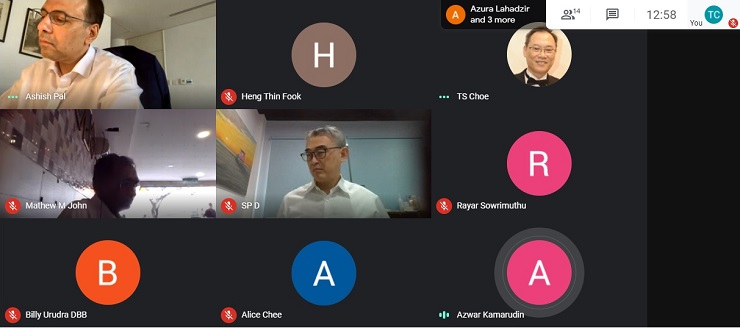 Meeting with MITI on waiver Proposal by India & South Africa - 11 Jan 2021
The Ministry of International Trade and Industry (MITI) reached out to MAPS, MOPI and MMDA on a proposal by India & South Africa's proposal paper on "Waiver From Certain Provisions Of The Trips Agreement For The Prevention, Containment And Treatment Of Covid-19". MAPS was represented by the President and Vice President at this closed door meeting.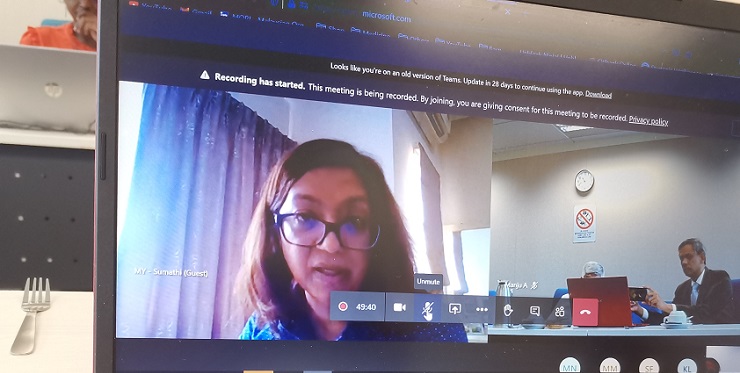 Engagement session on Medicine Price Control and Cost Benefit Analysis - 5 Jan 2021
The pharmaceutical industry was invited by the Pharmacy Practice and Development department of the Pharmacy Services Program to an engagement session on Medicine Price Control. The Malaysian Productivity Corporation also did a presentation on the Cost Benefit Analysis that they performed at the engagement session. Following the session a few weeks was given for feedback on the matter via the government's United Public Consultation website. MAPS thanks all members who gave feedback.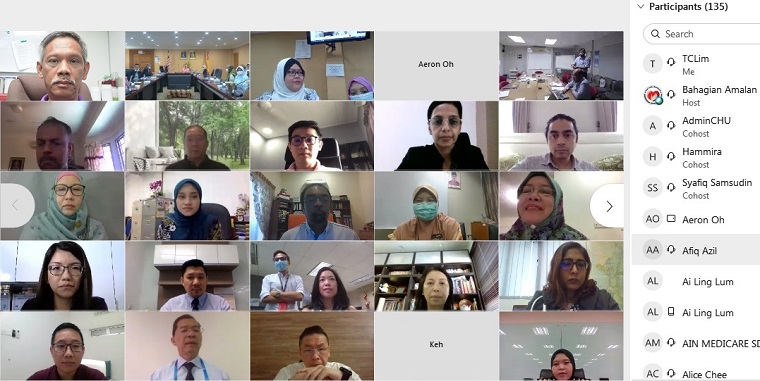 Survey on the business impact from MCO and post Covid-19 - December 2020
The trade committee made a survey among members with 14 member companies providing feedback. The report was finalized in December an circulated to participants.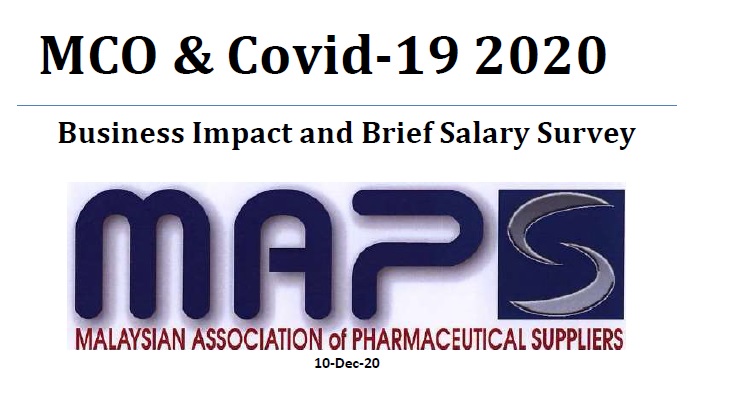 Distributive Trade Qoloquium 2020 - 19th November 2020
MAPS was invited to participate in said event hosted by the Ministry of Domestic Trade and Consumer Affairs, with the Minister in attendance for the opening. The slides of the presentation will be shared when eventually available.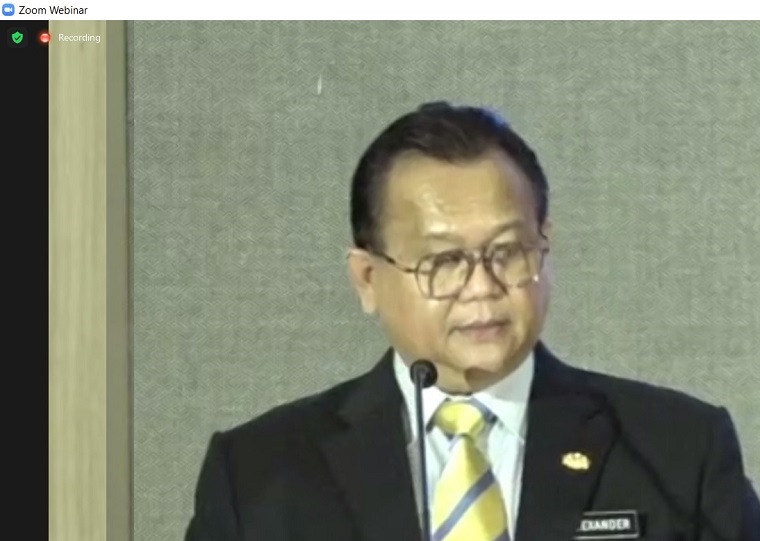 1st Ever Virtual BOD meeting - 17th November 2020
Due to the Work from Home order and continuance of the CMCO, the BOD meeting which was scheduled had to be held via virtual platform. One of the main event to look out for soon is the survey among members on 'Business Impact (MCO and Covid-19)', which we hope to have full participation as it enables us to be more effective when we engage the various ministries, with factual evidence, as we look towards recovery and reform.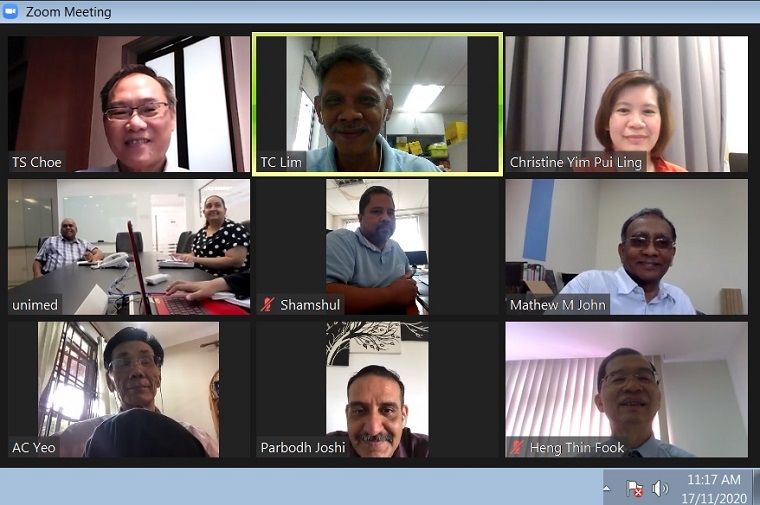 Video Conference with Malaysia Productivity Corporation (MPC) - 27th October 2020
The Malaysia Productivity Corporation (MPC) engaged MAPS on the topic of "Reducing Unnecessaty Regulatory Burdens". The association was represented by the Chairman of Regulatory Affairs, Mr Yeo Ann Chin and the President.

The main point by MAPS is that any new regulatory requirements should only be applied to new products and not retroactively to products that have been registered. The loss of many products resulting from past retroactive implementation of new requirements was highlighted.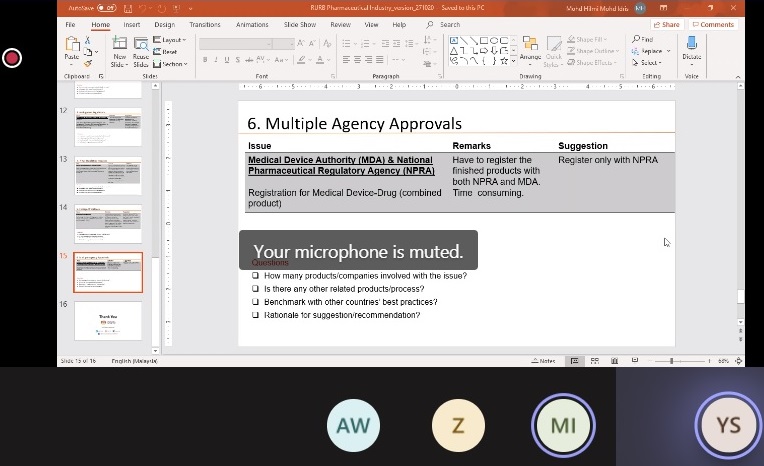 Video Conference with MITI (WFH) - 21th October 2020
The MKN issued an order that companies must direct 90% of the management staff to work from home (WFH), and several other announcements in the tightening of the CMCO, which led to many questions raised from the industry. For this purpose the Ministry of International Trade called for a video conference, chaired by the Deputy Secretary General (Industry), Dato Sri Norazman Ayob, to clarify matters.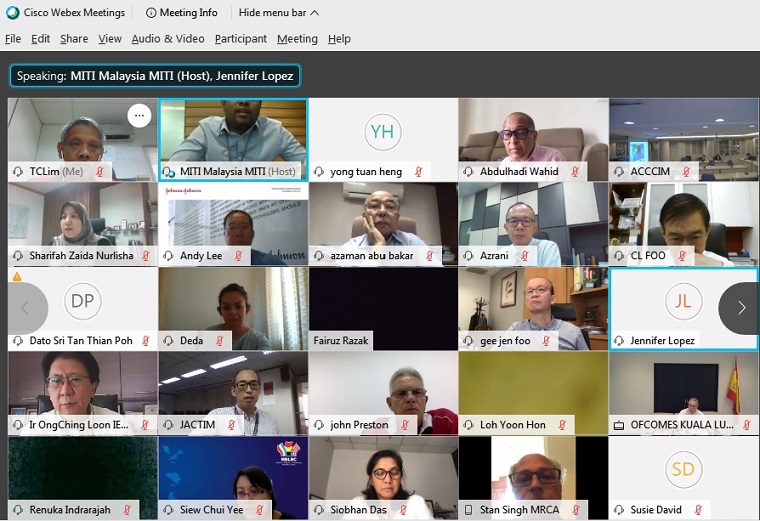 Virtual dialogue with NPRA - 7th September 2020
This Dialogue was to be held on 25th March 2020. However, due to the MCO, it was delayed until now. Numerous issues were discussed particularly on the "old products" without BE studies, Variations timeline and delays, "Do-and-Tell" variation submissions, Registration of a generic product by the same Manufacturer under 2 brand names, permission to have 2 Repackers for TMHS, e-labelling etc.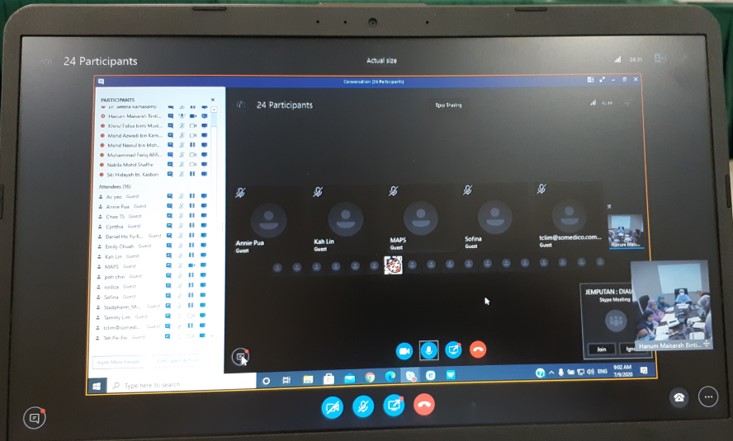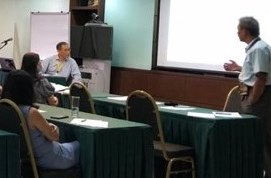 9th AGM on 25th August 2020
The Government enforced the Movement Control Order (MCO) effective 18th March 2020 and the ROS suspended society meetings. MAPS finally held its 9th AGM on 25th August 2020 instead of 19th March 2020. It was well attended by 18 member Companies from a total membership of 30. The number of participants was 22.

Physical distancing and hand sanitising were enforced per SOP for meetings.
Hyphens Pharma CSR campaign fight against COVID 19
As part of Hyphens Pharma Corporate Social Responsibility campaign in the fight against COVID 19, Medical Grade Sanitizers, Ceradan Gentle Cleanser and Sterimar Nasal Spray were contributed to our Dedicated Frontliners at 3 Covid-19 designated Hospitals: Selayang, Serdang and Pulau Pinang.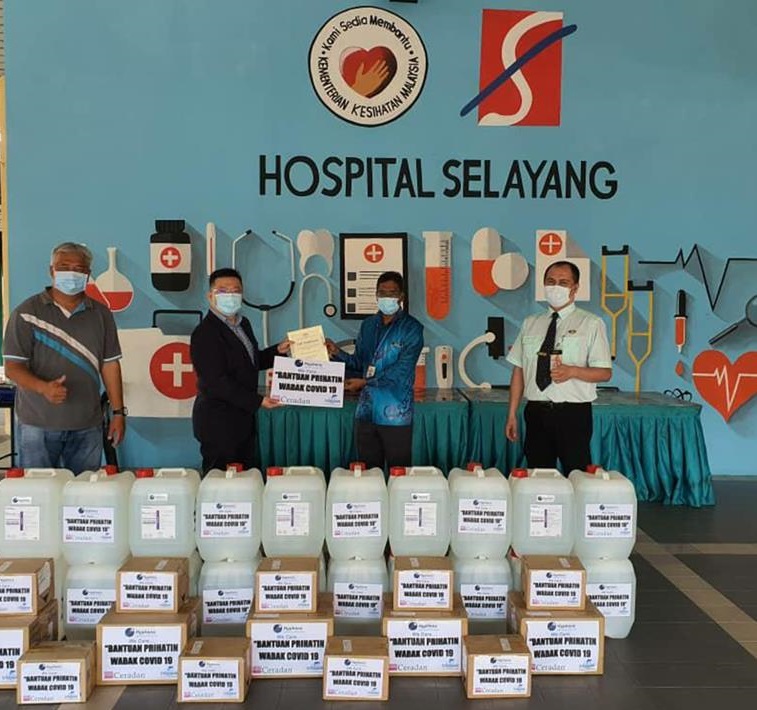 MyCPBF Webinar 2.0 - Protecting Business Continuity
MAPS was represented by its President, Mr Lim Teng Chyuan at this webinar organised by the Malaysian Pharmaceutical Society Young Pharmacist Chapter (YPC). This Webinar was broadcast on Saturday, 18th July 3.00 to 5.00 pm. MyCPBF is an initiative by YPC that aims to empower young pharmacists within the community pharmacy sector.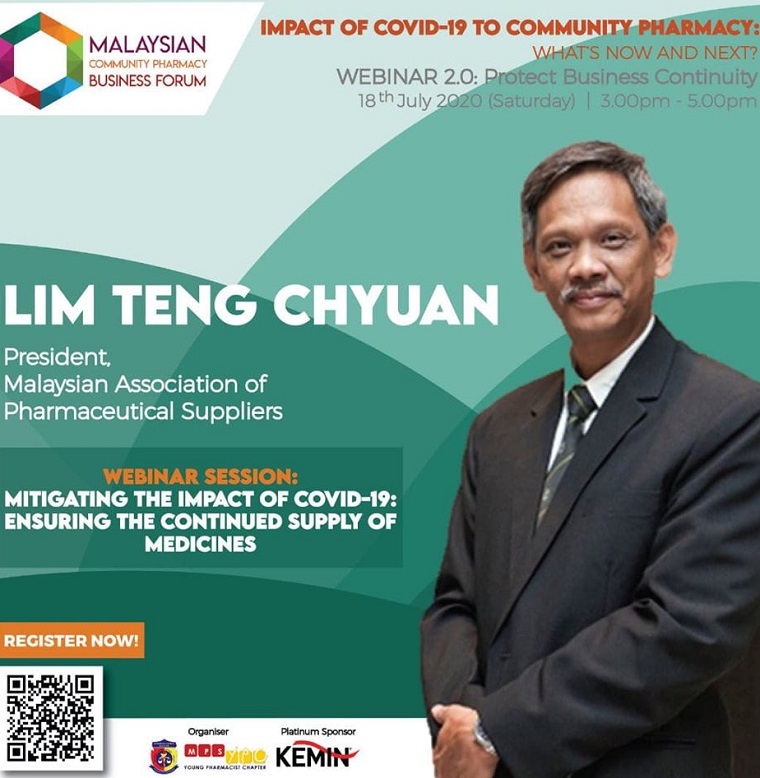 Two sessions were presented at this Webinar, and the MAPS President spoke on Mitigating the Impact of Covid-19: Ensuring the Continued Supply of Medicines, while another session was presented by E&Y on business continuity.
Conference call with Pharmacy Agency of Uzbekistan
The President, with three other Directors participated in the Trade discussion with the "Agency for Development of Pharmaceutical Industry of Uzbekistan (ADPI)" at 3 pm on 17 June 2020. Basically it was exploratory on the Industry's interest to invest in manufacturing into Uzbekistan.

The Meeting was hosted by the H.E. Mr. Ravshan Usmanov, Ambassador of Uzbekistan, Malaysia over Cisco Webex.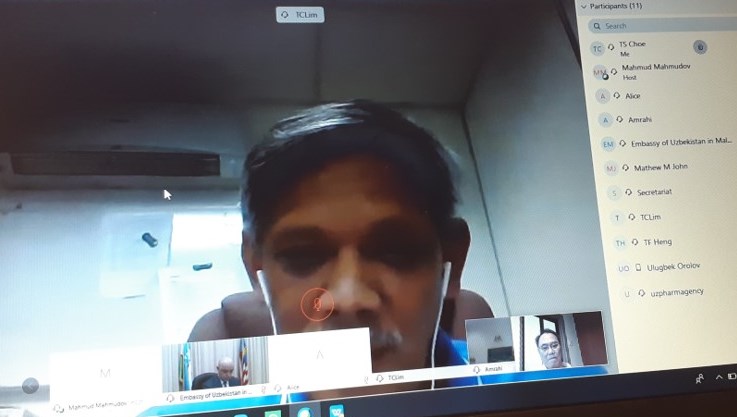 Session for Industry Feedback and Suggestions on Proposed Bill on Temporary Measures to Reduce the Impact of Covid 19 - 3rd June 2020
The Ministry of International Trade and Industry sent out a communication to associations and professional bodies last week to provide feedback on said proposed bill. MAPS sent a list of proposals on 30th May. Many associations also sent in their proposals. A session was called to discusss the gathered feedbacks scheduled on 3rd June 2020 at 2.30 - 4.30 PM. As expected this session as in previous meetings overshot the allocated time.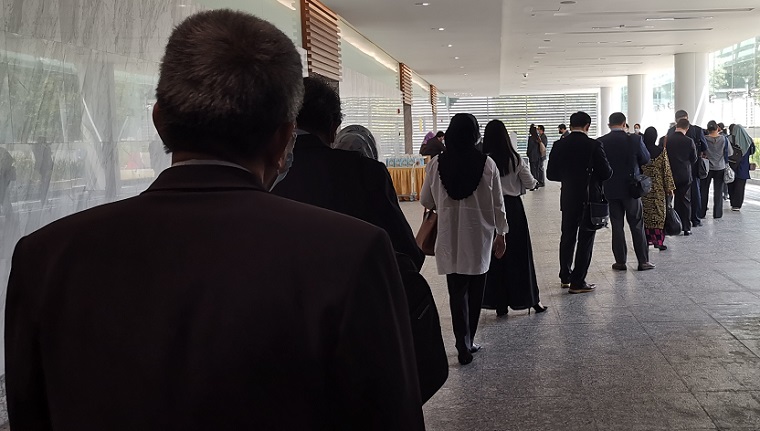 Above - the queue registering to enter the ballroom at MITI


This meeting chaired by the Deputy Secretary General of MITI, had representatives from various government agencies and departments
Department of Legal Afffairs, PM's Department
AGC
Procurement Department, MOF
MOF
KKM
MOHR
MIDA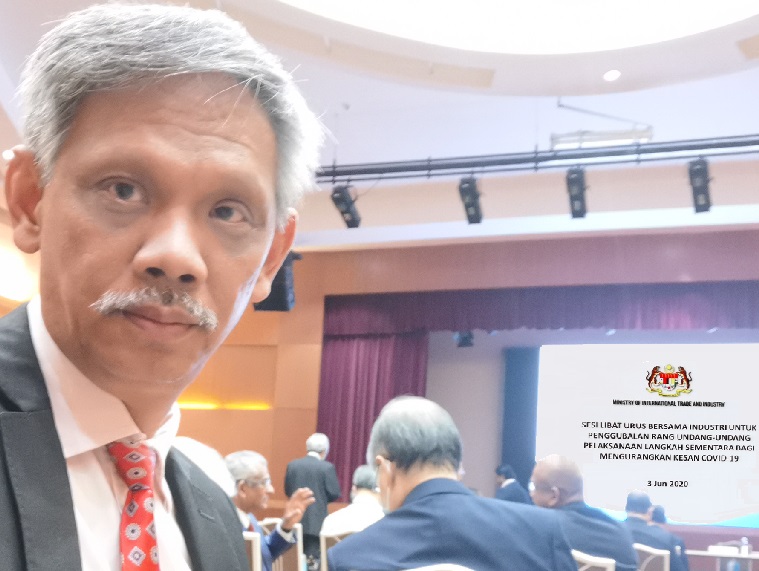 Delegates of 95 Associations from industrial sector and 33 from professional sector were invited to this meeting. It was disclosed at this meeting that a total of 220 proposals were submitted by the industrial sector and 61 were from the services sector. The major proposals fall into 6 categories
Contractual Obligations, with general provisions which extends to force majeure principals to Covid-19 situations
Allowance for online meetings and declarations
Extension and relaxation of statutory requirements, including winding-up and bankruptcy
Sustainability of employers through relaxation of Labor Law requirements, tax measures and cash rebates
Review of insurance coverage to make available temporary short term coverage of those facing increased risk of Covid-19
Mediations initiative to resolve disputes post Covid-19
The delegates were informed that such issues will not be covered under the proposed bill
Under state jurisdiction
Can be resolved by the powers of respective Ministers by way of subsidiary legislation
Can be resolved administratively by their respective Ministries / Agencies / Departments
Contractual issues that can be resolved by contracting parties (freedom of contract)
The delegates voiced opinions on the various exclusions mentioned above and urged the government agencies to look at ways, for example if possible to harmonise state and federal legislations.

While the purpose of this meeting was to discuss the bill, some discussions strayed into the area of SOPs as there remains lack of clarity resulting in frustrations to the business community.

Finally, if you have any proposal or feedback on the Covid 19 bill, it is not too late to send them to the Ministry. Please provide it via this link.
Session for the clarification of SOPs for industrial sectors during MCO period - 19th May 2020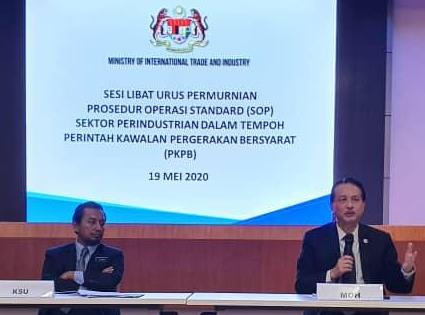 This meeting was chaired by the Secretary General of the Ministry of International Trade and Industy, Y Bhg Dato' Lokman Hakim Ali at the Dewan Perdana of the Menara MITI. This meeting was attended by 11 government agencies/ministries, including the DG Health, Perkeso, KPDNHEP, KDN, BNM and MKN. The private participants were from 130 associations and professional bodies.

This session saw the DG Health Datuk Seri Dr. Noor Hisham bin Abdullah, updating the delegates on the situation in the country. It was highly interactive, started on time and went into overtime by more than an hour. Even then there were still some pressing issues that needed to be raised via the WhatsApp group for further consideration.

It was acknowledged by the government representatives that while Covid-19 affects health, it has also affected wealth via its impact on the economy. Tacitly the virus is already in our community and will be here to stay. The planning to manage the crisis was started in December 2019 when the first cases broke. The first case in the country was recorded on 25 Jan 2020, mostly imported cases from China and Malaysians related to Chinese contacts. Whle there was a 11 day lull towards late February, the storm of patients came following that. The government was advised to close the borders to stem the tide, resulting in the implementation of the MCO.

There are new things being learnt about the virus, as what was initially thought to be an infection that affected the airway, has now shown to also affect other systems like the vascular and immune systems. It is also learnt that the virus is evolving, and the prospects of a vaccine remains elusive due to that. As such Malaysians must be prepared to change our way of interacting to maintain the flattening of the curve. In the time since the CMCO, the cases have started to decline, and at some points even reached single digit infections, barring the imported and foreign worker clusters. The situation at the hospitals have improved. Of the 7 Covid-only hospitals, ventilator utilization has fallen to below 5%.

The meeting discussed many issue related to screening, testing, the implementation of SOPs, funding and dealing with the conflicting statements from various bodies. The delegates requested that there be more clarity and unity on the policies to allay fears of the industry.

Finally, Selamat Hari Raya Puasa, dear members. Even if we have to do things differently this year, the same spirit of love and respect for life and each other should prevail. We may be physically distant, but let us keep each other close in our thoughts and hearts.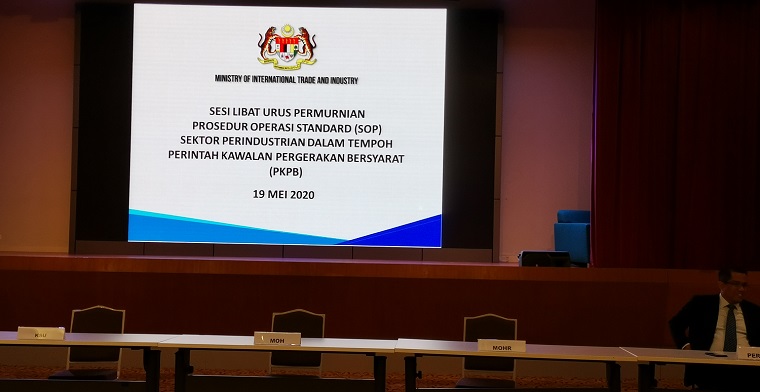 Meeting to Discuss Operation of Industry Sectors during MCO period - 28th April 2020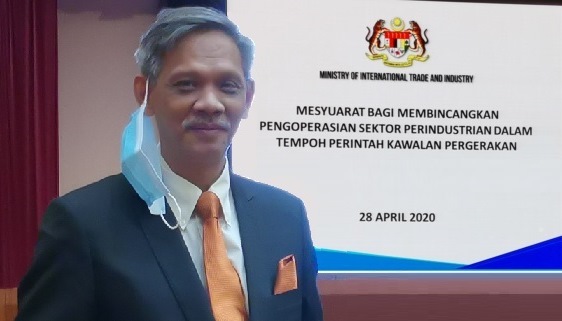 A meeting was called by the Ministry of International Trade and Industry on April 28th, chaired by the Deputy Secretary General (Industry) of MITI, Y Bhg Dato' Sri Norazman Ayob. This meeting saw representations by over 30 associations.

Among the key highlights of the meeting included the presentation by Dr Mahesh of the Cricis Preparedness Response Center of the Ministry of Health, on the MySejahtera app. Members are strongly encouraged to have staff and visitors to their premises instal this app. The MAPS secretariat has sent out the circular on this matter. The implementation of similar apps has been taken up in many countries helping the countries manage the pandemic.

On the technical matters relating to the approval to continue operations, MITI has highlighted that the process involves multiple agencies. MITI is cognisant of the need for industry to operate, but there are limitations set by other agencies, such as town or municipal councils and city halls.

Moving forward both the EPU and Ministry of finance are working towards measures to help the economy recover. The meeting was told to anticipate some imminent good news. (Post-meeting press release, ie the good news) it has been announced that limitations on number of staff and operation hours have been lifted. But with this relaxation, companies are expected to be self-policing to ensure that the SOPs are rigidly adhered to. Companies who abuse the relaxation will have their operations shut down.
First BOD meeting of 2020
MAPS had its first Board of Directors meeting at the Secretariat on 18 February 2020. This also marks the first meeting for the decade. We hope that with the turn of the decade more good things will come.

One important matter discussed is the upcoming dialogue with the NPRA scheduled for March.

We also look forward to meeting our members in the Annual General Meeting scheduled for 10.30 am March 19th. We hope to have a participative meeting. Lunch will be served.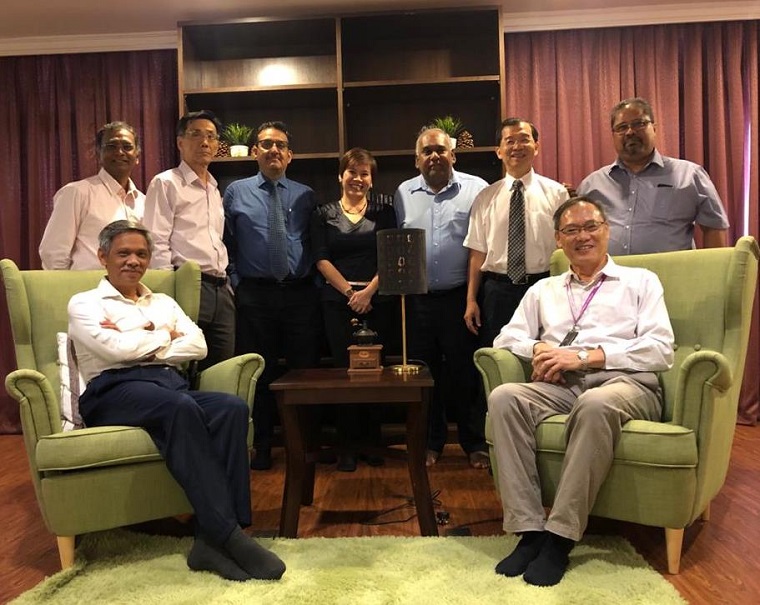 NPRA Engagement with the Private sector
MAPS represented by TF Heng, Mathew John and Christine Yim participated in the "NPRA Engagement with the Private sector" on 14th February 2020. There were 2 parts to the presentation viz:
Part 1: New Amendments for the Fee Schedule under CDCR 1984. This was also uploaded to the Unified Public consultation website www.upc.mpc.gov.my for public feedback and comments by 14th April 2020. , and
Part 2: Regulatory Updates 219-2020 & Strategic Plan 2021-2024

MAPS raised its concerns for the hefty increase in the fees proposal.

Pharmaceutical Industry Pharmacists Insight 21 Dec 2019
MAPS was invited to be on the panel for the topic "A Paradigm Shift in Profession Landscape?: Saturation, Juxtaposition, Empowerment". The panel was a program within the Pharmaceutical Industry Pharmacists Insight organised by the Young Pharmacists Chapter of MPS.

MAPS was represented by the President Mr Lim together with panelists from Pharmacy Board, MPS, MOPI and Phama.

MAPS presented views on the opportunities within the industry relevant to our members' business, such as GDP, regulatory and entrepreneurship, amongst others.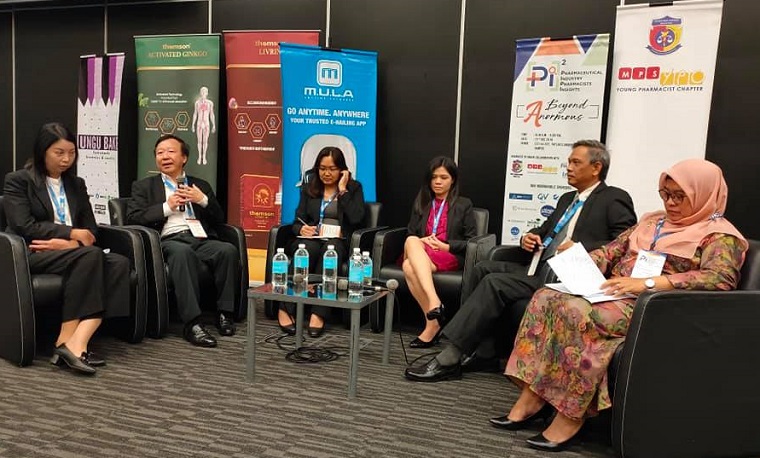 MAPS 8th Anniversary Dinner
MAPS celebrated her 8th anniversary at the Holiday Inn Glenmarie, Shah Alam with nearly 300 participants from member companies and invited guests on 18 October 2019.

We had, as Guest-of-Honor, Dr Ramli Bin Zainal, the Senior Director of the Pharmaceutical Services Programme, Ministry of Health represented by Datin Dr Faridah Aryani Binti Md Yusof, Director of the National Pharmaceutical Pharmacy Regulatory Agency.

The photos have been posted at this link

Click for Datin Dr Faridah's speech

Click for President's speech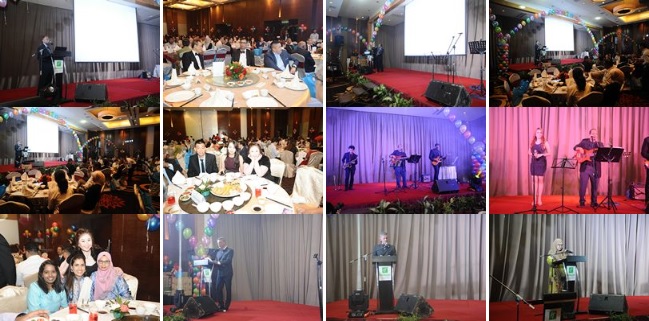 Good Governance in Medicines Seminar - 30th October 2019
The Pharmacy Services Program, MAPS, MPS, MOPI, PhAMA and MCPG co-organised the Good Governance for Medicines (GGM) Seminar on the 30th October 2019 at the Grand Dorsett Hotel, Subang. The theme was: "Governance and Integrity, The Way Forward".

The Seminar was to increase the awareness of professional and stakeholders in the healthcare industry on the importance of good governance in medicines. Among issues covered were the National Anti-corruption Plan, MoH Policies on Corruption, Code of Conducts of the Trade Associations and professionals.

Mr TF Heng, Vice President, represented MAPS at the Panel discussion.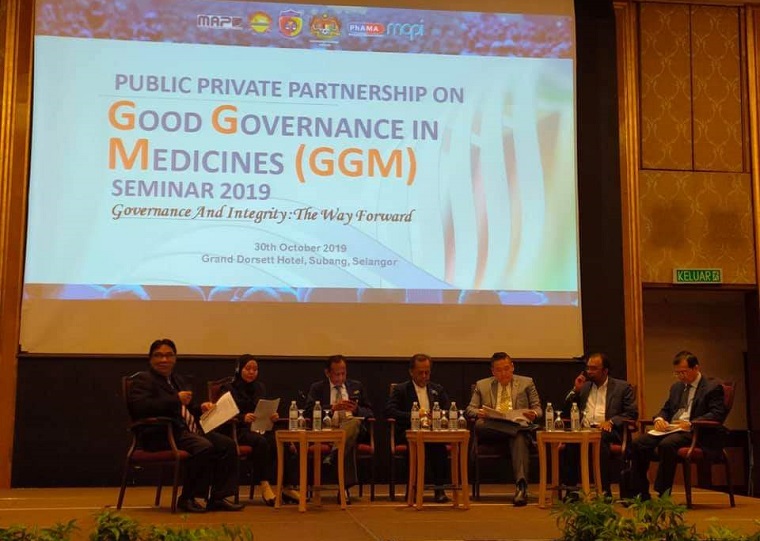 Hologram Dialogue Session - 17th August 2019
The Enforcement Unit of Pharmacy Division of the Ministry of Health and the Industry Stakeholders on the new Supplier for the "Hologram" labels held a dialogue on 17th August. Techno Secure Print Sdn Bhd (TSP), will be the new Supplier for the "Hologram" labels effective 1st September 2019 – 31st August 2023. Purchases of the "Hologram" will be effective this date. However, the use of the existing Meditag Hologram will be allowed to continue in order to "finish" the stock or within a 1-year period.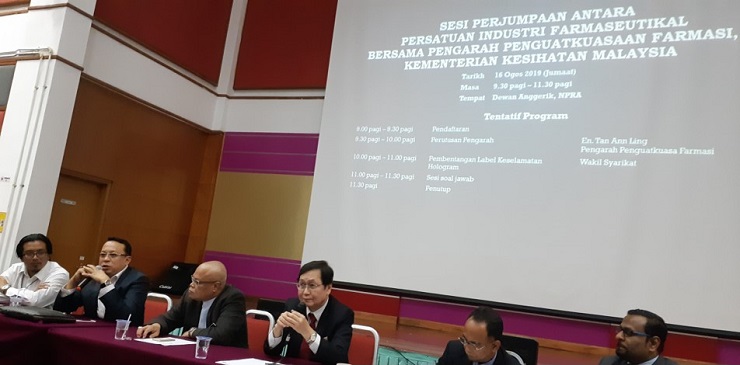 CONFERENCE FOR PREPARATION OF MALAYSIA STRATEGIC 12TH PLAN PAPER AKA RANCANGAN MALAYSIA (RMKe-12)
A conference was held at the brand new National Institute of Health, Setia Alam for the purpose of preparing the 12th Malaysia Plan (RMK12) on the 15th of August. Many stakeholders from both the public and private sector was invited to listen to the varous presentations before the participants were divided into 14 focus groups to prepare the 5 year paln for the Health sector. MAPS was represented by the President.

A very important presentation by the Minister who himself spent over an hour on the topic of National Health Reform drew the major attention in addition to 3 more lectures by eminent luminaries. Members have the privilege of logging in to the members section to view the Minister's presentation.
| | | | |
| --- | --- | --- | --- |
| Datuk Dr Christopher Lee, Deputy DG Health(Research & Technical Support) | Representative from Ministry of Economic Affairs | Dato' Dr. Chong Chee Kheong, Deputy DG Health(Public Health) | |
| Datuk Dr Hj. Rohaizat bin Hj Yon, Deputy DG Health(Medical) | Dato' Seri Dr Chen Chaw Min, Secretary General, MOH | Datuk Seri Dr. Dzulkefly Ahmad, Minister of Health | |