News/Photo
Steering Committee Meeting on Dasar Ubat Nasional (DUNas) 2023
There were several engagements and workshops on the National Medicine Policy (DUNas) which culminated in the tabling of the Policy for final approval by the steering committee on DUNas chaired by the outgoing Director General of Health, Tan Sri Dato' Seri Dr Noor Hisham Abdullah. This meeting was held on April 11th 2.30 - 4 pm.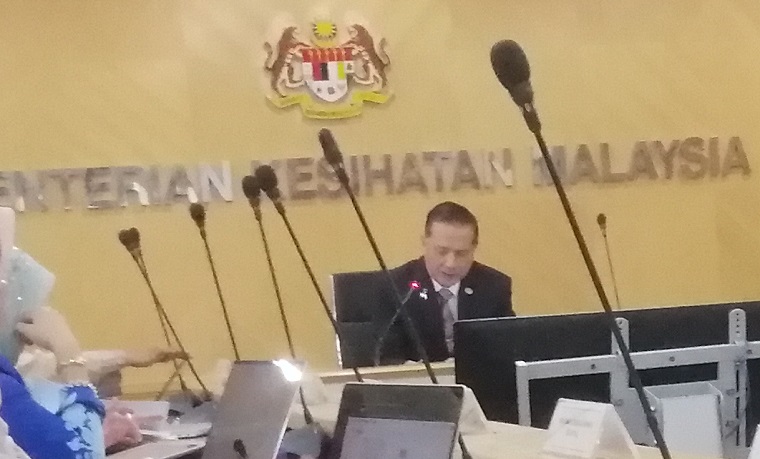 This meeting saw many delegates from the Pharmacy Services Program, National Pharmaceutical Control Bureau, other government agencies and ministries and also the industry. MAPS President attended this meeting representing the association. After the meeting formally adopted the Policy, comprising the 5 components, a session of appreciation was held for the DG of Health for his many years of service for the nation.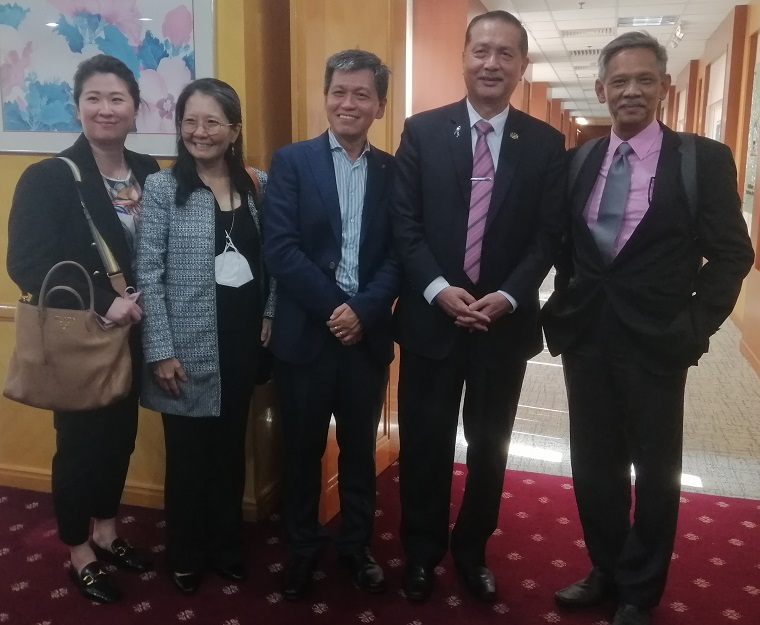 Please do take time to understand the DUNas policy and how you may take it into consideration to improve your offerings to the nation and also take opportunity to benefit from it too.
Dialogue with NPRA
MAPS had a hybrid dialogue with NPRA on regulatory issues faced by the members on 30 March 2023 from 9am to 1pm. Minutes of meeting will be sent out to all regulatory members on way moving forward, especially on issues related to BE, BEDE, Foreign GMP inspection and CPP. Do refer to the email as a reference to help guide you in getting better understanding on those many issues.
Bengkel Pemurnian Dasar Ubat Nasional 2023
The National Medicine Policy, Dasar Ubat Nasional (DuNas) which was endorsed by the Malaysian Cabinet in October 2006, is the way forward for the nation to ensure good medicines management for better health outcomes of all Malaysians. This Policy is reviewed every 5 years, and we are now in the 4th term of the Policy. This is a very important document, and many stakeholders were invited from the industry and government agencies, within and outside of the ministry of Health, eg MITI, MOSTI, MDTCA.

The Pharmacy Services Program called for a 2 days workshop held on 28-29 March 2023 at the National Health Institute, Setia Alam to fine tune and finalize Dasar Ubat Nasional 2022-2026 for all 5 components:
Governance in medicines
Quality, safety and efficacy of medicines
Access to medicines
Quality use of medicines
Partnership & Collaboration for the healthcare industry
MAPS sent 3 representatives. We hope that more members would also participate in future DuNas engagements as there are significant implications to our industry. The DuNas secretariat will still be accepting feedback for further improvements before presenting to higher management. A finalized version shall be shared at a future point. Do peruse and see the opportunities that this policy can present to members, and also the challenges.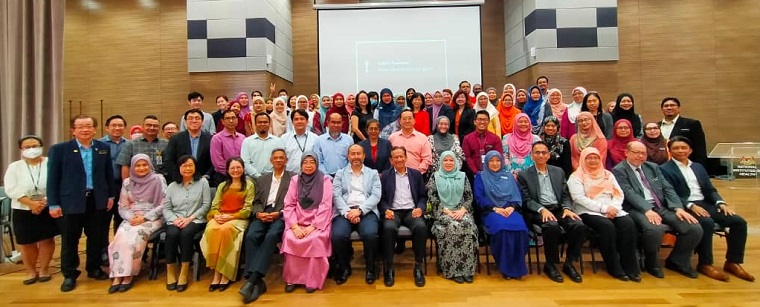 Pooled Procurement Video Conference 28 Mar 2023
MAPS attended a video conference on 28 Mar 2028 at 2.30pm, chaired by DG of Health, Tan Sri Dr Noor Hisham Abdulllah, on 'Pooled Procurement'. MOH would like to combine the procurement of Public sector, Universities, Mindef and Private sector together, in order to reduce medicines pricing in Malaysia and to increase availability and affordability. This initiative is on voluntarily basis for the time being.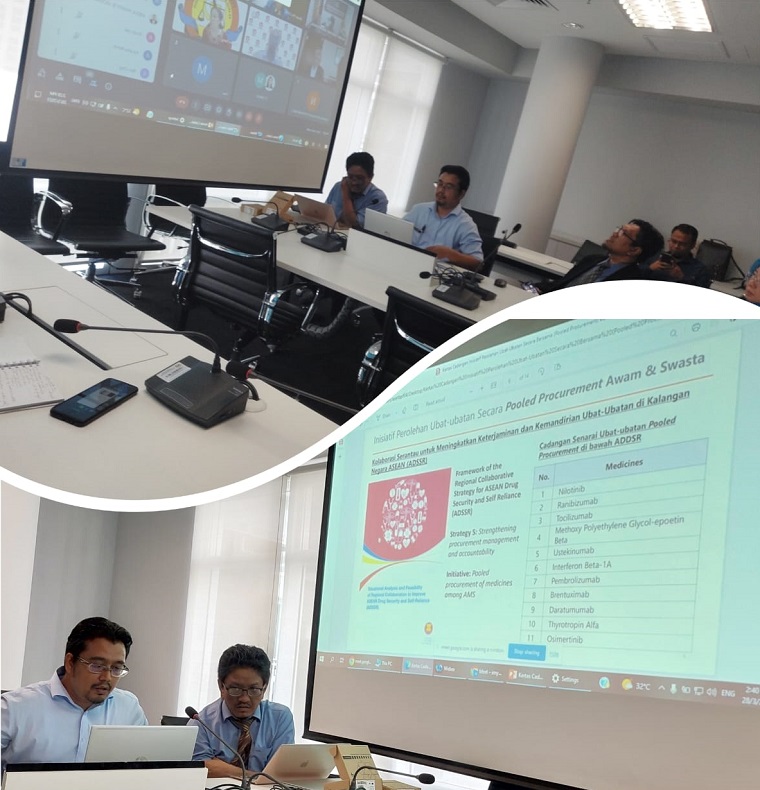 12th Annual General Meeting
The 12th AGM of MAPS 2023 was held on 21 March 2023 at 1.30pm to 2.30pm. A quorum of 18 companies presented in the AGM. Various issued were discussed and minuted for action.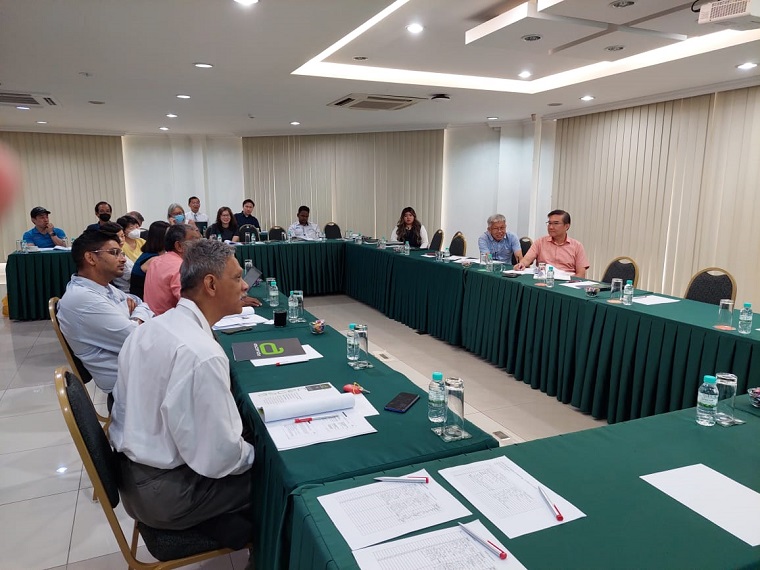 CTOS talk
On 21 March 2023, an "Introducing CTOS" talk was held. CTOS is Malaysia's leading Credit Reporting Agency (CRA) under the purview of the Registrar Office of Credit Reporting Agencies, Ministry of Finance and regulated under the Credit Reporting Agencies Act 2010.

Benefits of Using CTOS to get useful data and insights to make better and safer business decisions were shared. The secretariat will send the presentation to all members, and those who are interested should inform the secretariat first to coordinate the numbers for a chance to get a better deal for subscription.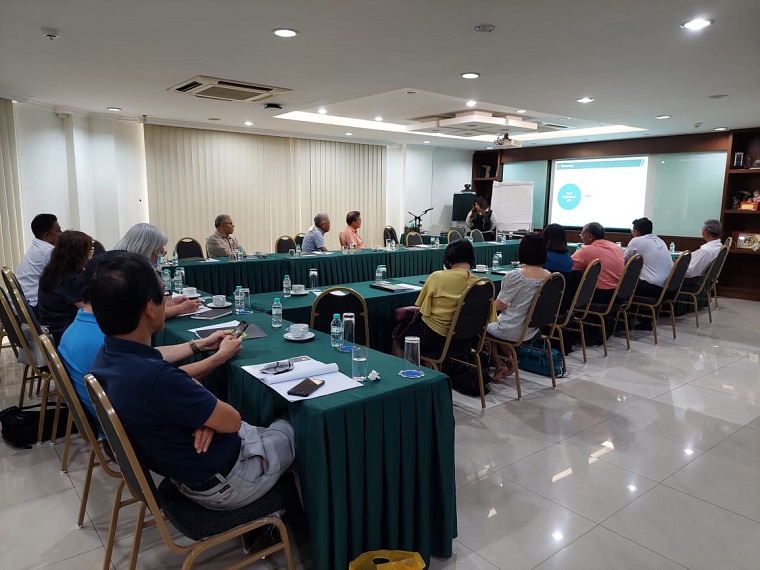 Utilizing Your HRD Fund (HRDF) Talk
On 21 March 2023 10:30am, MAPS organized a "Utilizing Your HRD Fund (HRDF)" Talk which includes the following:
Purpose of the PSMB Act 2001
Requirements of the Act
Who must contribute
The Levy
Forfeiture clause
What is claimable
The process for utilizing the fund
The secretariat also thanks the members who participated in the quick survey which provided data which showed the large contributions to the fund that has not been utilised. MAPS Board urges members to make use of this fund to help them upgrade their skills.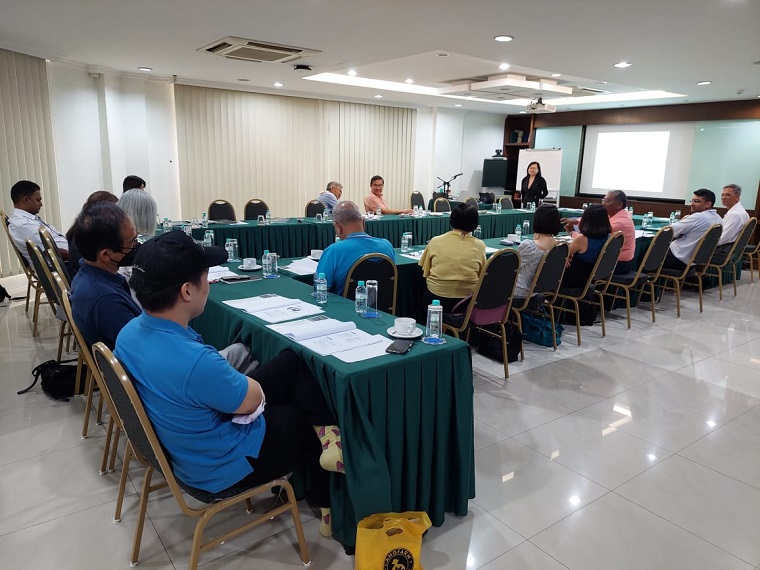 e-Labelling discussion with NPRA
MAPS Regulatory committee has presented our views during a Hybrid discussion with NPRA on 15 Mar 2023. The pilot project was delayed to Q2 2023 and to be rolled out by phases within 2 years. Pharmaforte from MAPS participated in this pilot project and will start off with 4 APIs.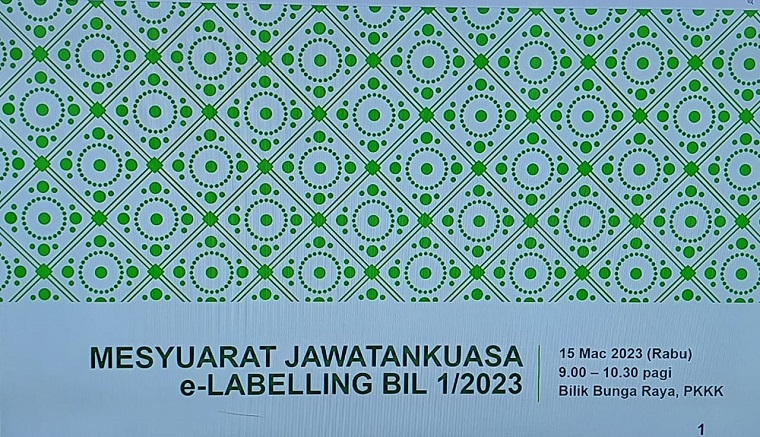 Women's day High Tea
MAPS Women directors were invited to a joint industry high tea celebration for International Women's day. A cosy session of sharing and networking was done in the bus on 14 Mar 2023 2.30pm.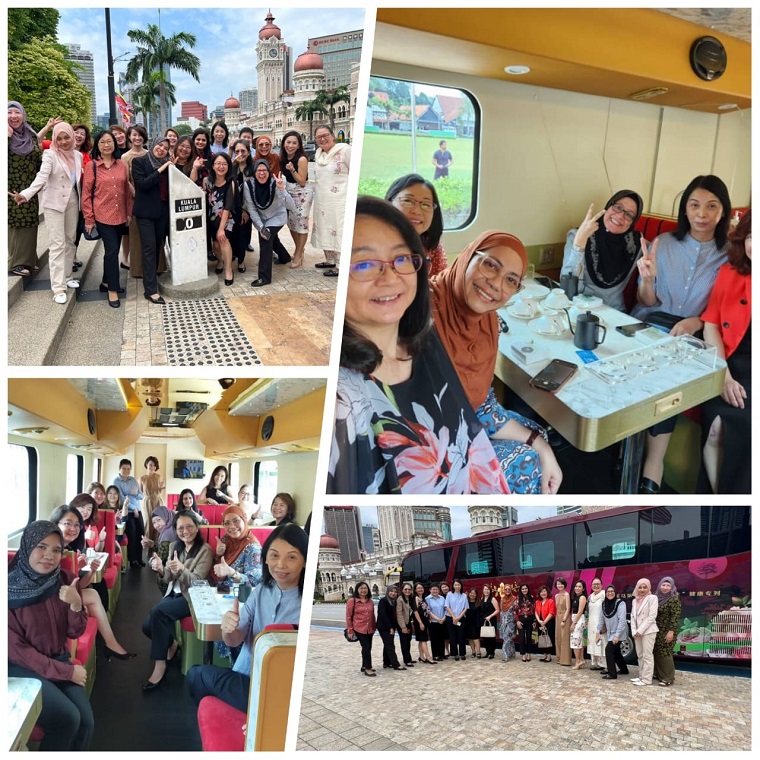 CODE OF PRACTICE seminar
Several MAPS members attended the PhAMA organized CODE OF PRACTICE seminar at Aloft Hotel on 14 Mar 2023. A new PhAMA Code was presented. Since the pandemic has changed the landscape of how meetings and interactions are held, a Code for Virtual Marketing do's and don'ts for pharmaceutical Class B & C Poison items was included.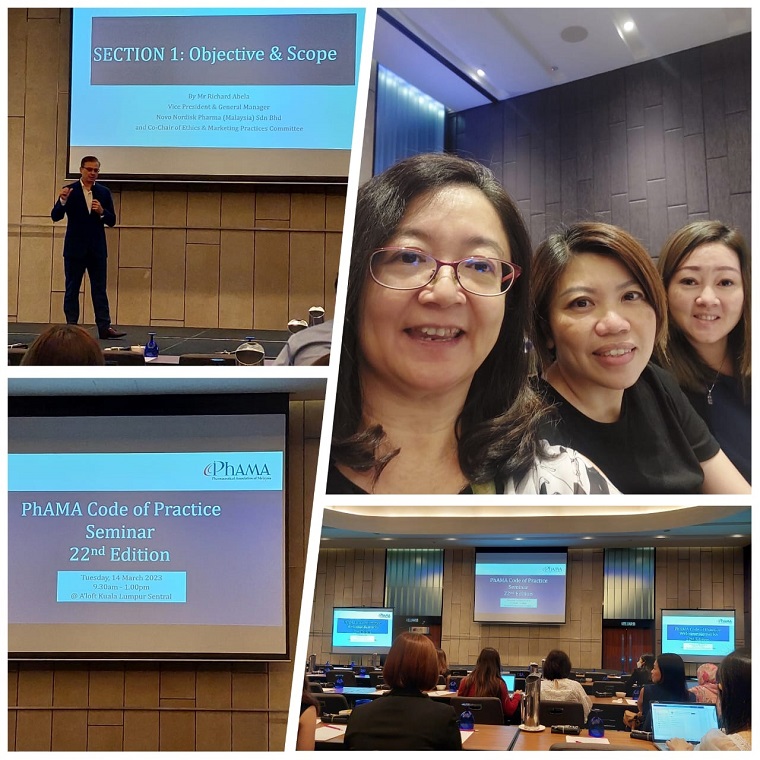 MAPS regulatory Meeting March 2023
MAPS Regulatory Committee Meeting 2023 commenced on 2 March 2023 2:30pm to 4:30pm. Issues discussed include registration timeline, Quest 3+ inadequacy, variations delays and other relevant topic. This meeting paves the way for a dialogue with NPRA in the near future. At time of posting the date for the NPRA meeting is 30 March 2023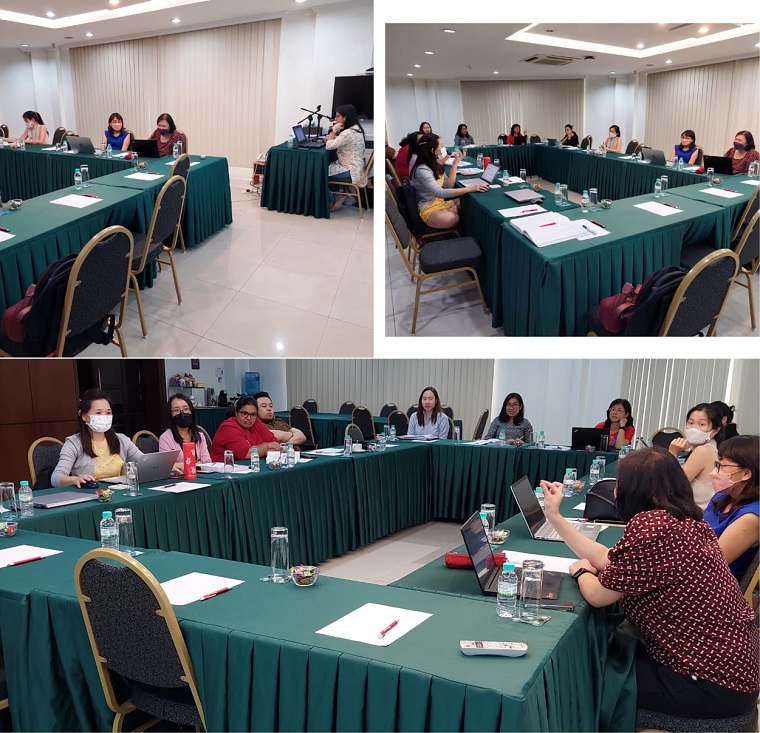 National Regulatory Updates Meeting
NPRA held the National Regulatory Updates Meeting on 31 Jan 2023, which includes their action plan for the year 2023 and beyond, which includes Tract & Trace, Pharmacovigilance Inspections, E-labelling etc. The slides presentations have been sent via email to all members. Do peruse the documents.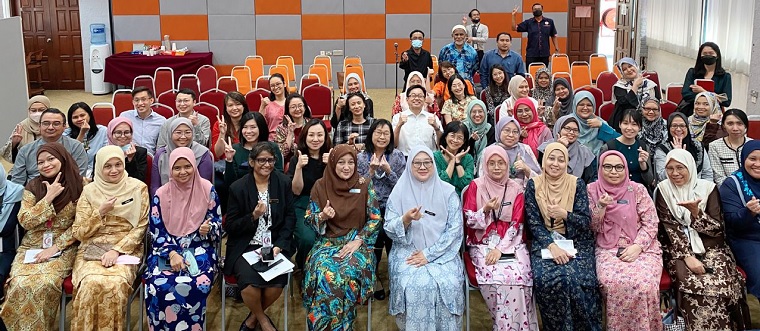 DUNas Technical Meeting Component 1: Good Governance In Medicine
The Second technical meeting for 2023 was for component 1 held at the Pharmacy Services Program on Jan 11 chaired by Pn Siti Aishah of the Pharmacy Policy & Strategic Planning Division. Our Associate Director, Ms Chong Siew Mei attended the meeting.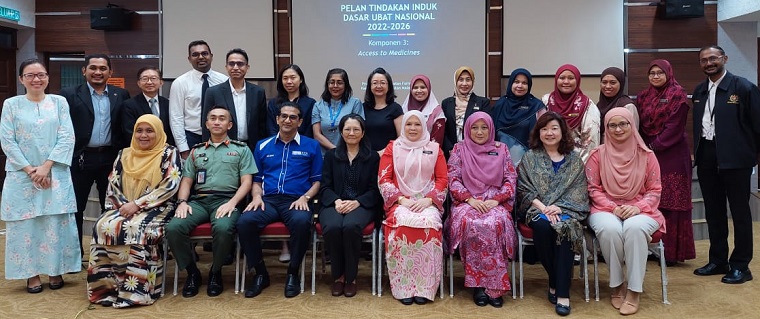 DUNas Technical Meeting Component 3: Access to medicines
DUNas (Dasar Ubat Nasional), ie the National Medicine Policy which is endorsed by the Malaysian Cabinet since October 2006, is the way forward for the nation to ensure good medicines management for better health outcomes of all Malaysians.

Towards this end the poicy has currently 5 components:
Governance of Medicines
Public Private Partnership
Access to medicines
Quality Use of medicines
Quality, Safety and Efficacy
The First technical meeting for 2023 was for component 3 held at the Pharmacy Services Program on Jan 11 chaired by Pn Fuziah of the Pharmacy Practice & Development Division. Our Associate Director, Ms Chong Siew Mei attended the meeting.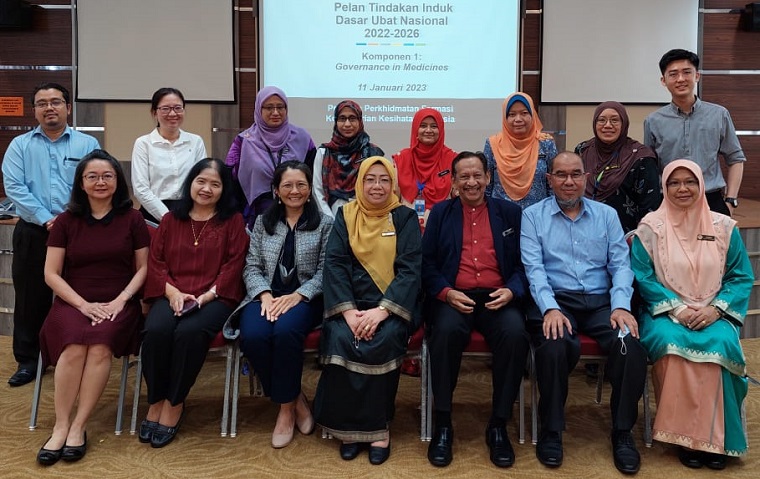 6th Healthcare + Expo, Taiwan
MAPS President was invited to the 6th Healthcare + Expo, Taiwan. The event was officially launched by the Taiwan President, Dr Tsai Ing-wen. The event took place at the Nangang Exhibition Centre, Taipei from December 1st to 4th.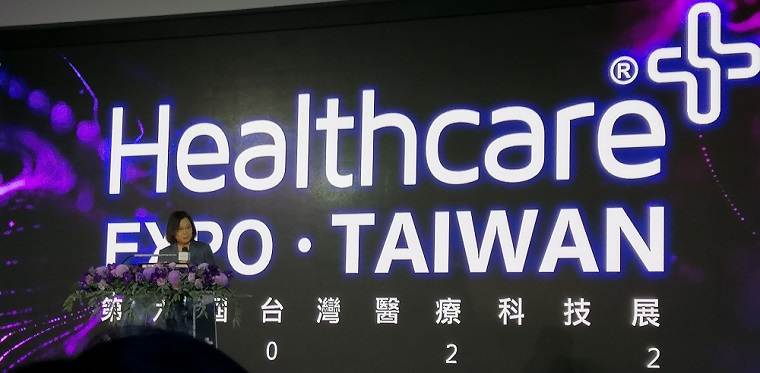 MOPI Webinar 3/2022 - Strengthening the Sustainability of Medicine Supply During National Health Crisis
MAPS participated in the webinar entitled Strengthening the Sustainability of Medicine Supply During National Health Crisis , on 23 November 2022.

Topics presented are :
Lessons learn from the disruption of global supply chain during the pandemic in ensuring the sustainability of medicine supply.
Covid19: Global trend and policies around the world in strengthening medicine supply.
Medicines supply sustainability.
Engagement session on Licensing Activities
With the passing of the Poisons Amendment Act (2022), the Pharmacy enforcement division engaged stakeholders on the changes that will have an impact on the activities for poison licence holders. MAPS attended "SESI LIBAT URUS AKTIVITI PELESENAN" For Acta Racun Pindaan 2022 on 14 October 2022 8am to 12.30pm, together with other industry players.

Significantly, the roles of registered and licensed pharmacists are mentioned. A brief email has been sent out to all members. If you wish to have a copy of the actual act you can download it from the AG Chambers' website here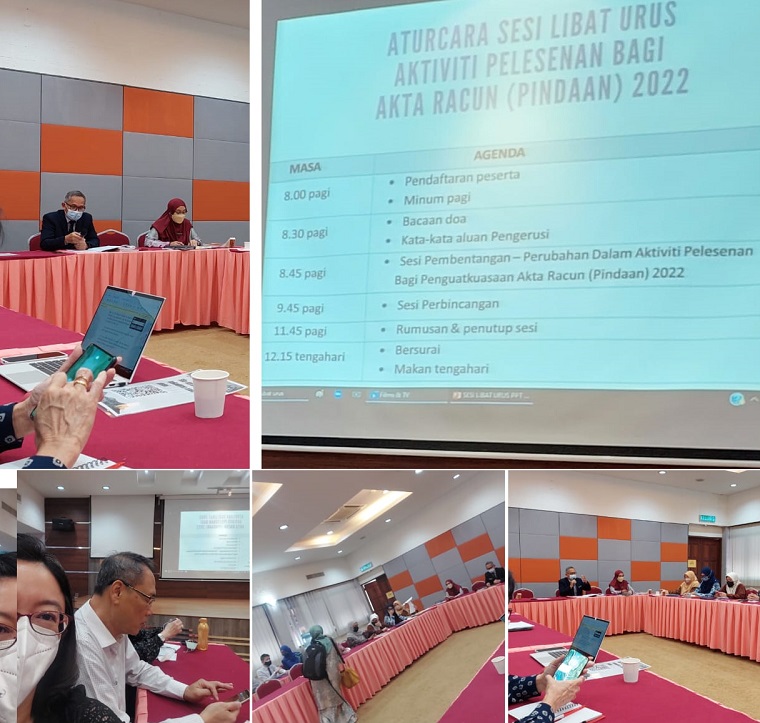 MAPS CEO and Senior Managers Networking 1.0 2022
After over 2 years of various stages of MCO's plus with the lowering case load and and severity, and aided by high vaccination rates, MAPS Social and Sport committee has organised a luncheon for the members and guests to come together for networking. Many changes have taken place in the business environment under the new normal, and this event was aimed at being an opportunity to catch up to discuss the challenges so as to get ideas on how to better manage the business in the new environment. Of course also a time to enjoy some unique food as we talk informally.

For this MAPS CEO Networking lunch held on 12 October 2022, total participation of 30 CEOS & Senior Managers from 20 companies attended the Networking lunch. Issues are being discussed in an informal and lively manner. It is hoped that there will be more opportunities for such networking sessions, and potential members are welcome to join us.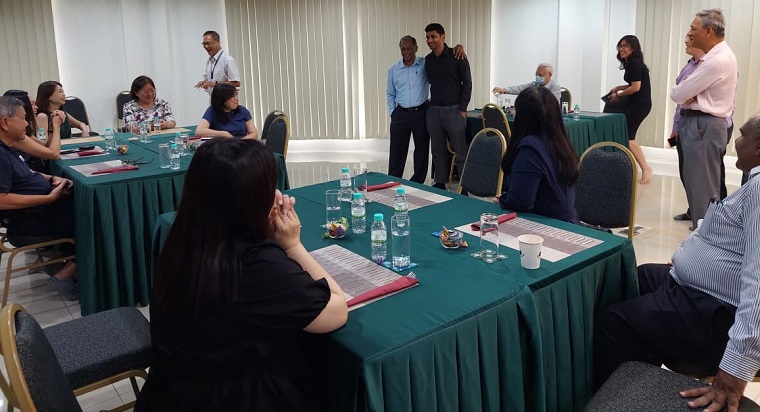 BEDE Dialogue with NPRA
A joint industry MAPS & MOPI dialogue with BEDE department of NPRA was held from 2:30pm to 4:30pm on 27 September to discuss on issues faced with regards to Bioequivalence Desktop evaluations matters.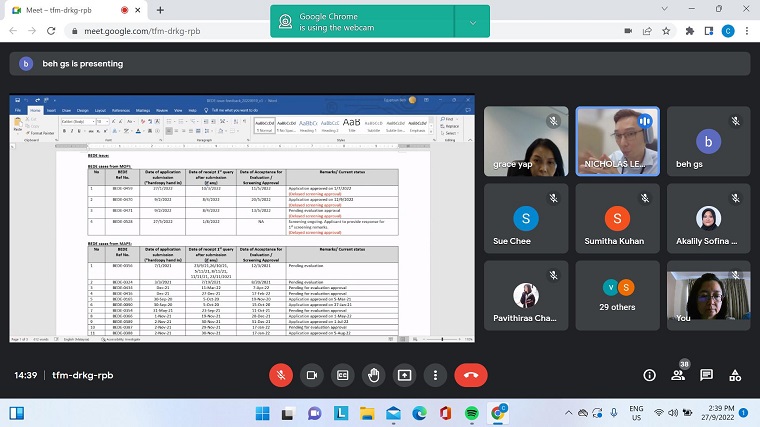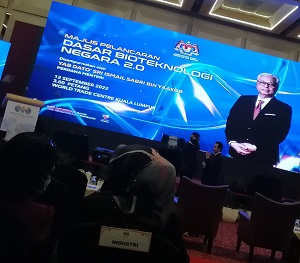 Launch of the National Biotechnology Policy 2.0 (DBN 2.0)
The National Biotechnology Policy 2.0 was officially launched on 12 September 2022 (Monday) by the Prime Minister of Malaysia, YAB Dato' Sri Ismail Sabri bin Yaakob at the World Trade Center Kuala Lumpur.

DBN 2.0 is an extension of the National Biotechnology Policy 2005-2020 which focuses on 3 main sectors which are Agriculture Biotechnology & Food Security, Industrial Biotechnology & Circular Economy and Healthcare Biotechnology & Wellness. The DBN 2.0 was attended by more than 300 representatives from the Ministry/agencies, industry, academia. MAPS president attended the event.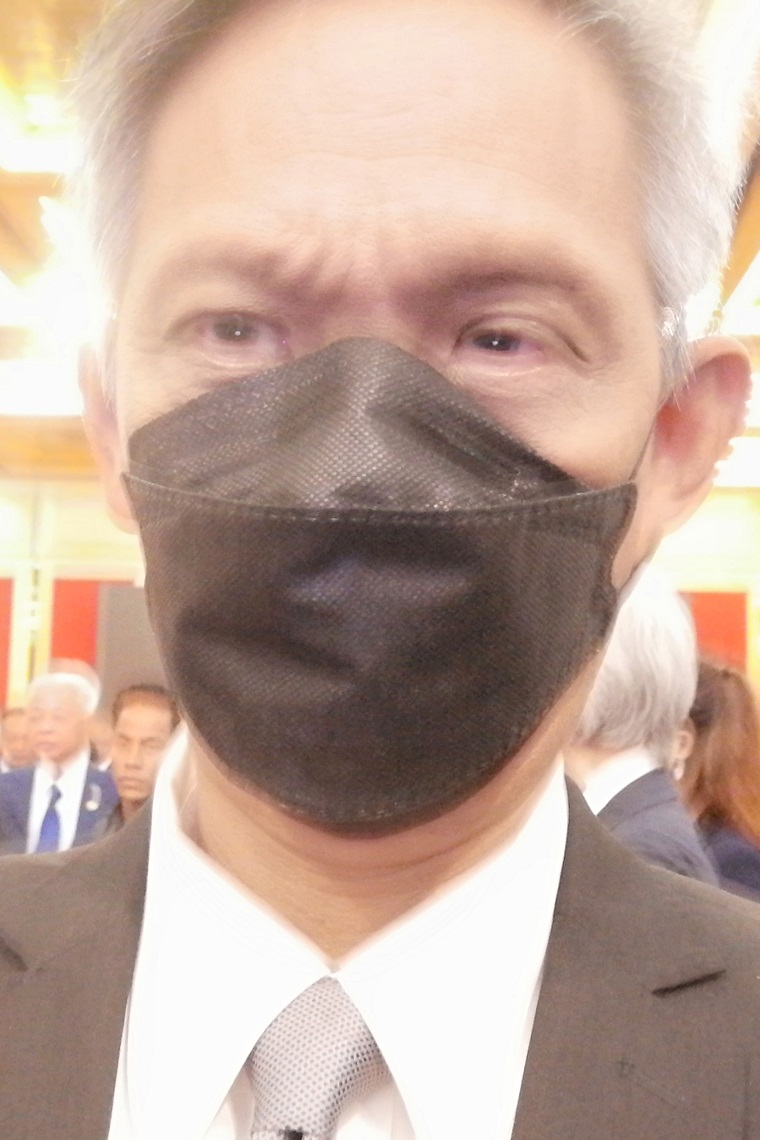 24th International Generic and Biosimilar Association - Malaysian Association Organisation of Pharmaceutical Industry Conference 2022
MAPS attended the 24th IGBA-MOPI Conference held on 7-9 September 2022, with topic ranging from Generic and biosimilar medicines, from central to patient health to global healthcare policies.

The IGBA-MOPI Conference 2022 has been organized by the Malaysian Organisation of Pharmaceutical Industries (MOPI), an associate member of IGBA from 7th - 9th September 2022 @ Royale Chulan Kuala Lumpur.

The Conference brought together around 250 experts and leaders from the manufacturing industry, government agencies, NGOs, academia and other stakeholders to participate in vibrant discussions and knowledge-exchange sessions on issues, trends and policies that shape the off-patent industry today.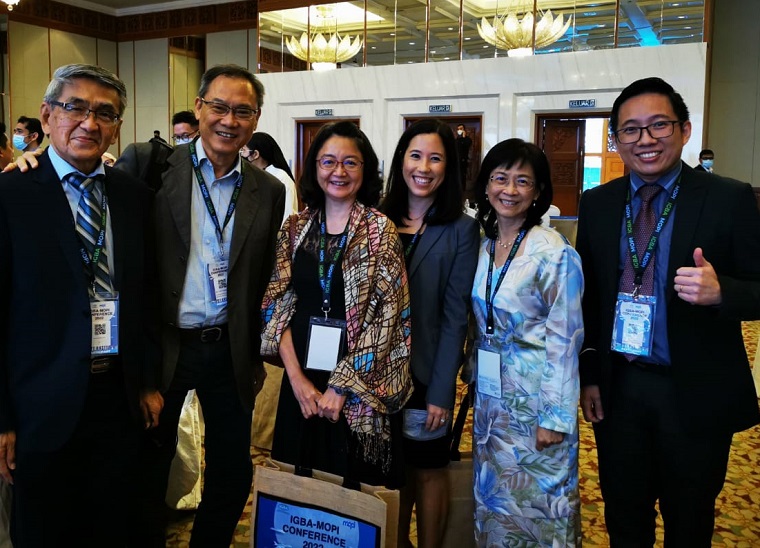 MESYUARAT CADANGAN TAKRIF AMALAN FARMASI
The Pharmacy Act 1951 must be reviewed and updated accordingly as the Practice of Pharmacy has evolved and transformed since then. The Act must anticipate the positive changes of the profession, practise and behaviour of the healthcare demands. It must be made relevant for now and the future. It will have the impact on the total healthcare system for the well being of the Rakyat and Nation. Mr TC Lim and Dr Choe Tong Seng were both invited to be part of this meeting held at the Pharmacy Services Program premise.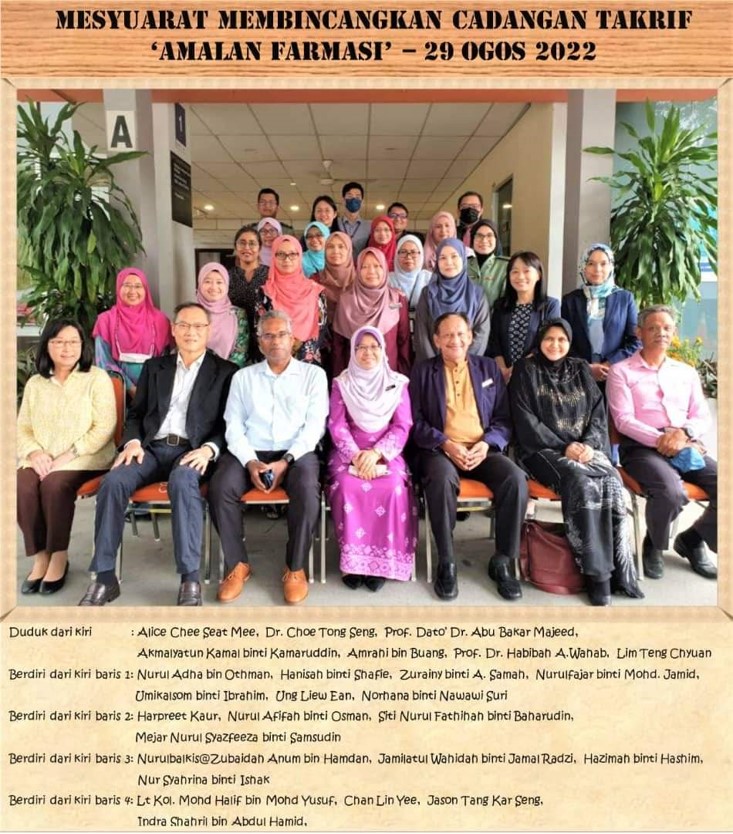 Health Policy Summit 15-16 Aug 2022
There is an increasing momentum on the formulation of the Health White Paper, which saw a major two day summit held at the Putra World Trade Center. The Prime Minister officiated this summit, while the Health Minister also took part in presentations, and panel discussions over both days. MAPS was invited and participated in this summit from 15-16 August 2022, which discussed about :
Health System Resilience- Innovation, Equity and Sustainability
Bridging "Health" back to healthcare
Health and healthcare throughout the age spectrum
Towards sustainable healthcare financing
Human resources for health
Realizing the call for "Whole of Society" in health outcome
Digital transformation: reimagining healthcare
The future of our healthcare, key area for reform: Service delivery & access, Financing , Governance.
Eventually all feedbacks will be collated and presented to the top policymakers. This white paper seeks to reimagine heathcare and is expected to set the landscape for the next 15 years, at least.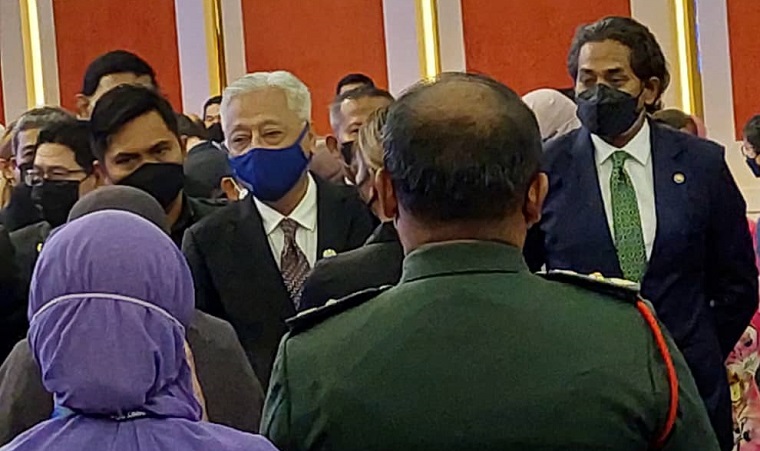 MAPS - MOPI discussion on common issues - 29 Jul 22
After a long break due to the pandemic, delegates from MAPS and MOPI met again in a face to face event hosted at MOPI's secretariat. It was fruitful meeting where we discussed many issues:
Proposal to MOH on price for tender items in view of weakened currency or increase in global raw materials
Late delivery penalty charges imposed in view of current shortages
Extension of length of time to supply MOH
Release of production and business data to MOH
APPL list be opened up to more players in the light of the shortage of medicines
To discuss on the Nitrosamine Impurity issue
General price control and "patent evergreening" issues
Grandfather products for re-registration
Hologram/QR code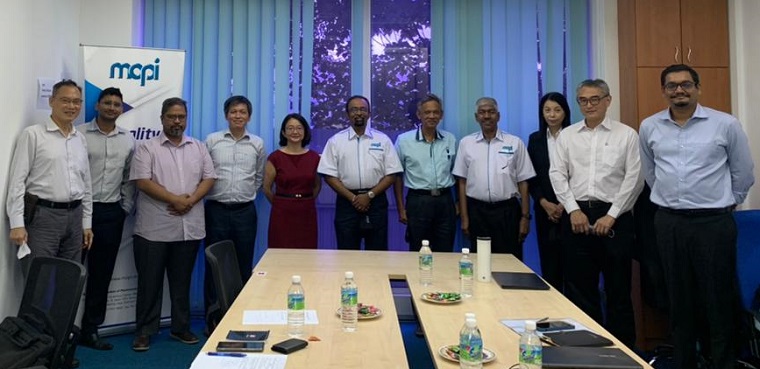 Mesyuarat Kekurangan Bekalan Ubat-ubatan di Fasiliti Kesihatan Primer
MAPS was invited to attend and give our opinions during " Mesyuarat Kekurangan Bekalan Ubat-ubatan di fasiliti Kesihatan Primer". MAPS being a key player in the supply chain of medicines in Malaysia, our views and support is sought after by MOH at a time like this. This meeting was held on 14 July 2022 at 1.30pm to 2.30pm at Bilik Gerakan, Block E7, KKM , Putrajaya with the Health Minister.

Workshop on Access to Affordable Treatment in Malaysia, 5 to 6 July 2022

A two-day workshop was organised by Third World Network at AVANTÉ Hotel, Bandar Utama on Access to Affordable Treatment in Malaysia. MAPS was represented by the President, Secretary and Assistant Secretary. Participants comprised Officials from Ministry of Health, Ministry of Domestic Trade and Consumer Affairs, Malaysian Competition Commission, patient support & advocacy groups, civil society organisations, Drugs for Neglected Diseases Initiative and academia.

The Senior Director of Pharmacy Services Program, Pn. Norhaliza binti A Halim, represented the DG of health in delivering the opening speech. Many topics were covered in this intense workshop, even with speakers joining via weblink from Cairo including:

Malaysia's Hepatitis C Journey
Access to Cancer Medicines: Issues and Challenges
Sustaining the national HIV programme
Patents Act amendments: implications for access to affordable medicines
Lessons from COVID-19 for pharmaceuticals regulation
Progressing Sponsored Clinical Research in Malaysia
From a WTO TRIPS Waiver to the 17 June 2022 TRIPS Decision: An assessment
Regulatory requirements for biosimilars, including WHO Guidelines review
Using Competition Law to Promote Access to Health Technologies in Low- and Middle-Income Countries
Anti-competition behaviour in the market and remedies
Price transparency and affordable pricing
A domestic industry perspective
MAPS Regulatory Zoom Meeting - 28 June 2022
A regulatory meeting was held via Zoom on 28 JUne at 3pm. With a total participants of 30 Rgulatory Affairs staff participatin, the agenda discussed included Product Renewal Market Survey, e-Labelling Costing Impact Survey, Product Marketing Status Survey, Nitrosamine Impurities and drug shortage. 3 Sub-committees were formed to address these matters.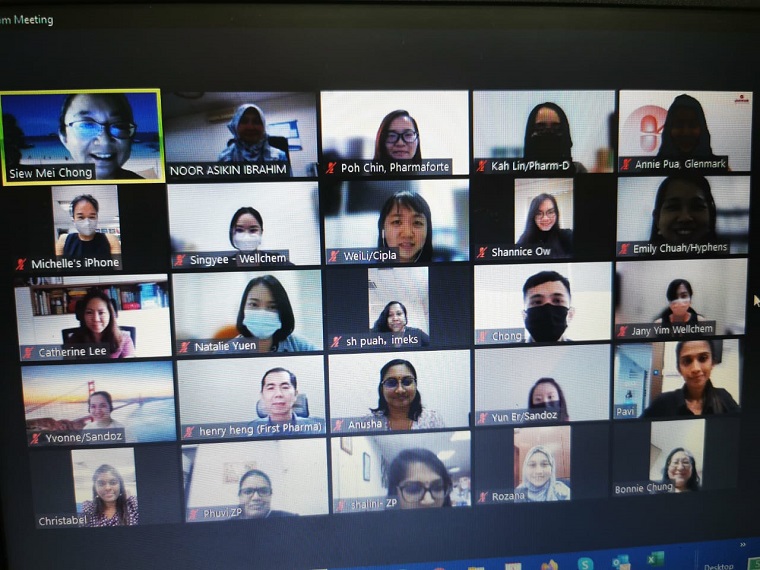 BIO-BASED ACCELERATOR PROGRAMme LAUNCH, 16HB JUNE 2022
MAPS, via the President attended the Bioeconomy Corporation hosted launch of the Bio-Based Accelerator programme on June 16 at the Marriot Putrajaya. The Minister of Agriculture and Food Industries, YB Datuk Seri Dr Ronald Kiandee officiated the launch.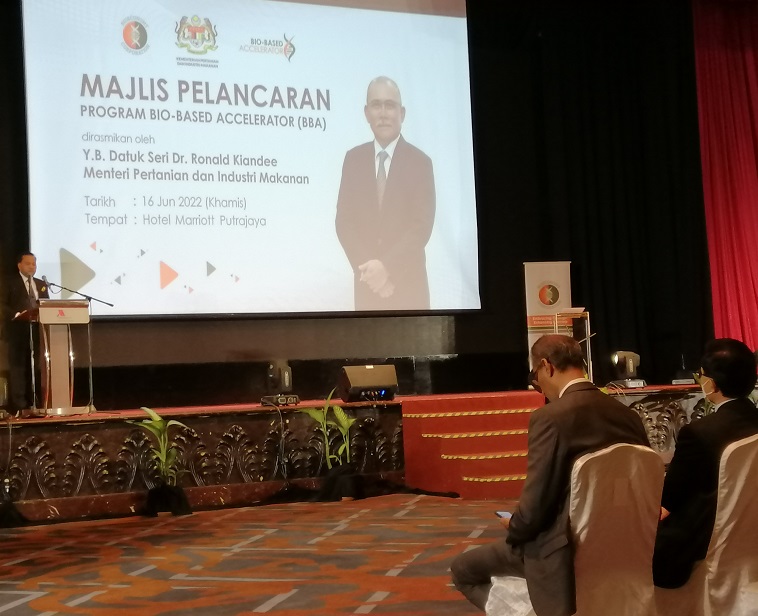 The newly introduced Bio-based Accelerator (BBA) programme helps bio-based companies to become innovative and tech savvy by facilitating them to infuse science, technology and automation in their business operations. This enables bio-based companies in the agriculture, industrial and healthcare sectors to progressively move up the value chain to become more efficient and competitive. This programme identifies gaps in skills, technology adoption, financial, regulatory and product marketability. For more information about this do visit their website, which can be beneficial to members who need the facilitation provided by the Bioeconomy Corporation.
Patents Laws Amendments Webinar 17 May 2022

MAPS participated at Patents Laws Amendments involving pharmaceutical industry webinar organized by MOPI on 17 May 2022. Summary and slides have been shared with all members of MAPS. Do check your email, in case you missed it.
SESI DIALOG BERKENAAN PELAKSANAAN PERMIT IMPORT PERANTI PERUBATAN DI BAWAH PERINTAH KASTAM (LARANGAN MENGENAI IMPORT) 2017
A dialogue had been conducted on 13 May 2022 between Malaysia Medical Device Authority (MDA) with MAPS, MOPI and PhAMA, regarding the implementation of E-permit for each shipment of medical devices, to curb illegal importations of Medical Devices.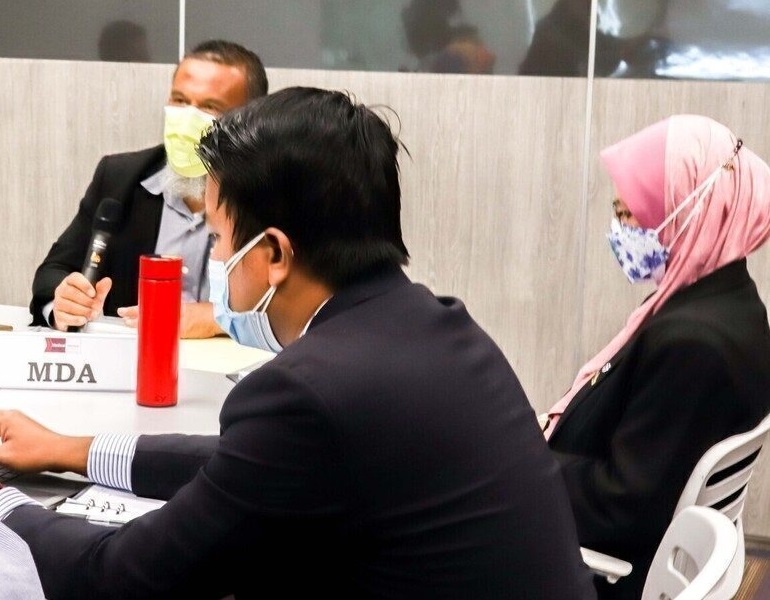 Bengkel Hala Tuju Pendidikan Farmasi Malaysia
This focus group organised by the Malaysian Council of Pharmacy Deans was held at Zenith Hotel, Putrajaya on May 18th. Stakeholders from academia, pharmacy services, industry and military were invited to provide feedbacks to help in formulating the future direction of pharmacy education in Malaysia. MAPS was represented by the President.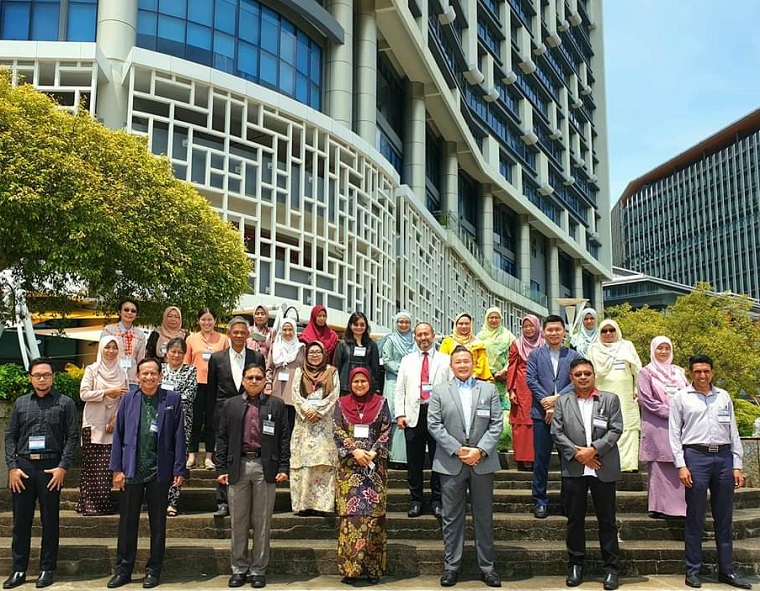 11th Annual General Meeting
MAPS 11th AGM was held on 22nd March 2022 at the Secretariat. There were 23 participants. Annual Financial and Committees Reports were presented. Much time was taken in the discussion for the Regulatory Report. It is important that CEOs are "on-top" of Regulatory issues as there will be financial impact for any delay, new requirements etc in the Regulatory process. It is strongly recommended that CEOs have regular engagements with their respective regulatory personnel, from time to time, for them to understand the impact in financials as well.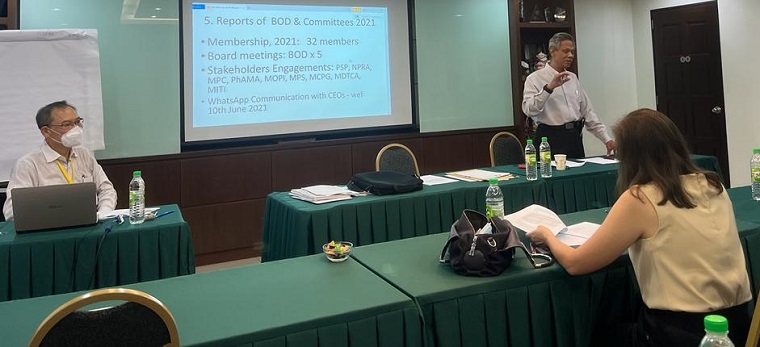 New Industrial Masterplan Industry Engagement
The MITI organised an egagement session on the New Industrial Masterplan(NIMP) at the MITI building on 18th November 2021.

MITI is conducting a study to develop the NIMP which is currently at the draft final report stage. The NIMP will replace the Industrial Master Plan 3 (IMP3) and will set the strategic direction for the manufacturing and the services sectors from now till 2030.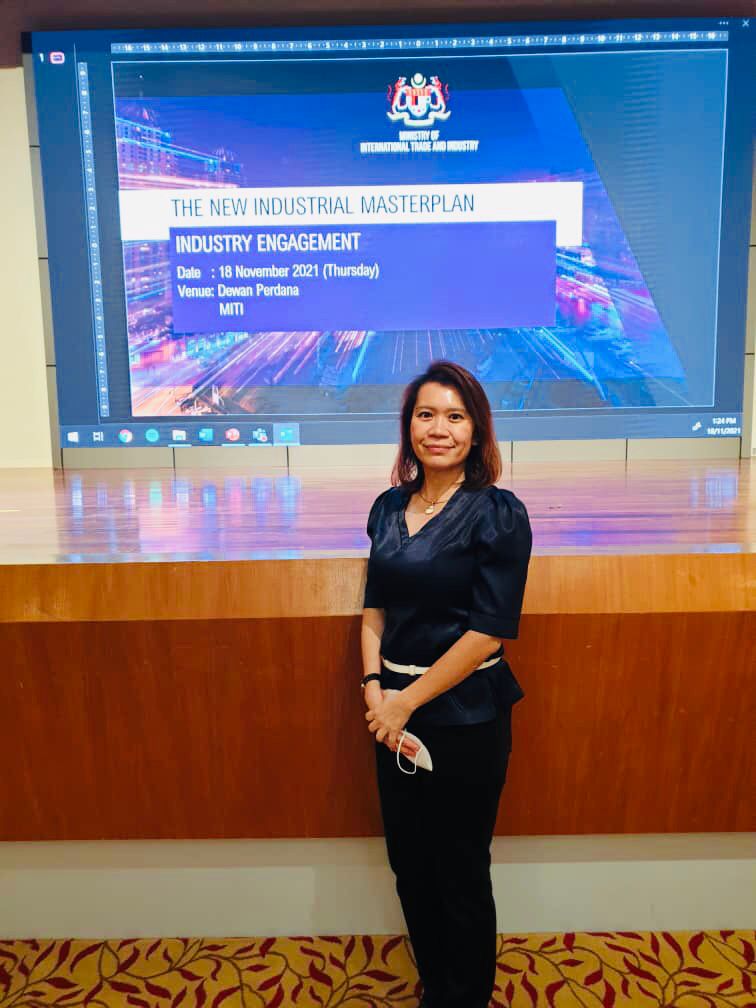 At this stage, strategies and action plans at the national and industry level have been formulated covering approximately 23 industries, of which the Medical Devices and Pharmaceuticals are part of. MAPS was invited to provide feedback and views on the proposed strategies and action plans to help develop a holistic approach to grow and propel.
MAPS provided a formal respoonse via an email in addition to the attendance of the workshop.
M&A and ERP System & Processes Talks, 1st April 2021
Ten member companies sent over 30 delegates who attended this event. Two topics covered in this session are

Topic 1) Corporate Development Strategies: Maximise value or an exit strategy on the following 2 options - Mergers & Acquisitions (M&ampA) or Initial Public Offering (IPO)
Topic 2) An effective ERP system for businesses: The tested and proven ERP System and Handheld Palm Order System. It highlighted Data Analytics, MES Integration, Smart Warehouse, Portal, Web and accounting software.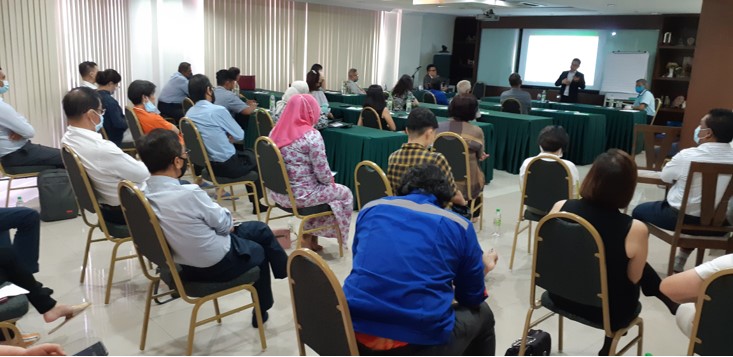 National Covid 19 Vaccination Follow-Up Briefing 26th March 2021
A Web Meeting was held as a follow-up to the earlier briefing by the Minister of MOSTI, YB Khairy Jamaluddin. The meeting was informed that the vaccination program for economic frontliners will be accelerated via a Private Public Partnership. Companies and associations that can gather large numbers will be given priority in this program. To qualify for this program companies need to achieve 80% sign-up rate. Via this the Ministry of Health will send the vaccine teams to specific sites to administer the vaccine. The cost of the team and vaccines will be borne by the government and the cost of setting up the external vaccination centres will be borne by the private partners. More details will ensue.

Other new considerations are for business travellers and students with overseas enrolment to be given priority vaccination, and vaccine choice will be allowed for this group if the country to be visited or enrolled requires a certain vaccine. Business travelers will need to provide prrof of business travel and students will need to provide proof of enrolment.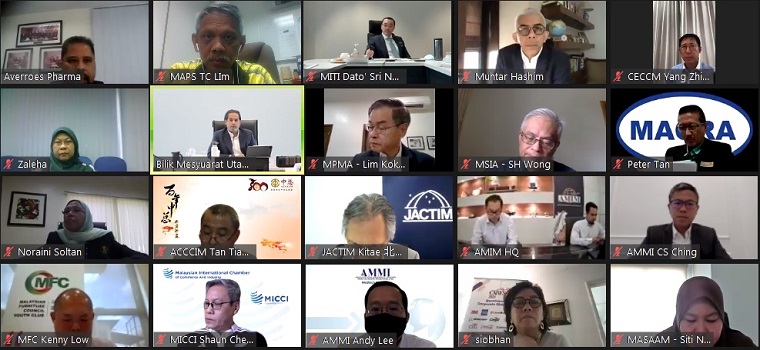 10th AGM 18th March 2021
The 10th AGM was held in the MAPS Secretariat on 18th March 2021. There were 18 member Companies present. Tight and stringent SOPs were enforced. The new Board of Directors were voted in for a new term of March 2021/2024. The President expressed his desire to have more members participating in the activities of MAPS.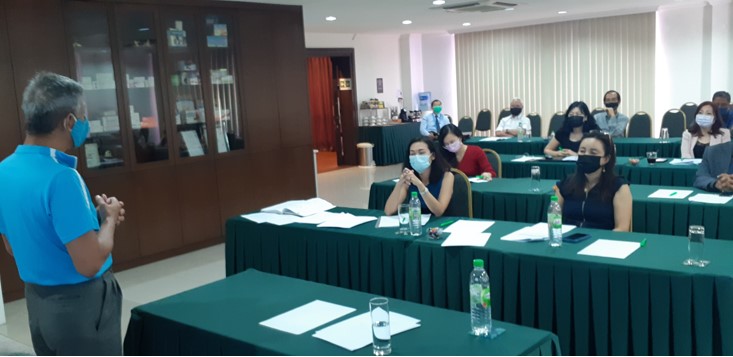 Briefing On The National Covid-19 Immunisation Programme - 4 March 2021

With the arrival of the Covid-19 vaccine, the nation's largest vaccination programme has been rolled out since late February, and registration for the vaccination program was opened via various channels including the Mysejahtera app. This briefing was given by the Minister of Science, Technology and Innovation himself, YB Tuan Khairy Jamaluddin to industry leaders. At the time of the briefing, the number vaccinated has reached over 80,000 individuals, and registration has reached 7% of the population.

The program will be conducted at 4 stages, firstly the frontliners comprising the healthcare practitioners followed by the support frontliners such as those in security. The second stage will be rolled out to those who are at high risk of morbidity and mortality from the infection. Next comes the general eligible population (including foreign workers). Finally the vaccination program will be deployed in managing high risk areas, eg in areas of severe outbreaks

The vaccination program is targeted at 70 - 80% of the population in order to achieve herd immunity. This is projected to be achieved within 1 year of the vaccination program, subject to vaccine supply being consistent.
Meeting with Malaysian Productivity Corporation on the CBA 16 Feb 2021
Following a series of joint industry meetings, it was agreed that the joint industry comprising MAPS, MOPI and PhAMA would meet with the MPC to discuss the way forward following the Cost Benefit Analysis (CBA) for the medicine price control proposal. We are pleased to note that the MPC is agreeable to conducting a more comprehensive CBA.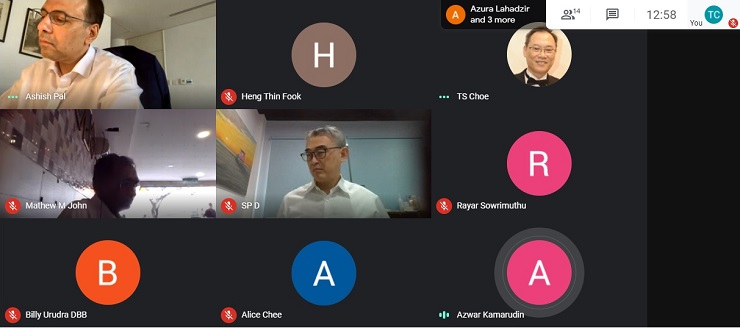 Meeting with MITI on waiver Proposal by India & South Africa - 11 Jan 2021
The Ministry of International Trade and Industry (MITI) reached out to MAPS, MOPI and MMDA on a proposal by India & South Africa's proposal paper on "Waiver From Certain Provisions Of The Trips Agreement For The Prevention, Containment And Treatment Of Covid-19". MAPS was represented by the President and Vice President at this closed door meeting.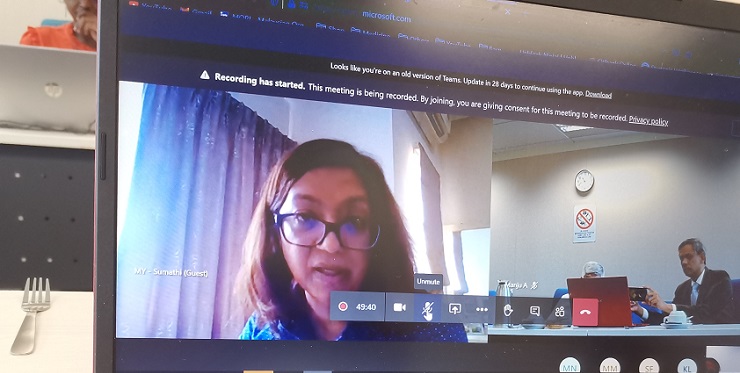 Engagement session on Medicine Price Control and Cost Benefit Analysis - 5 Jan 2021
The pharmaceutical industry was invited by the Pharmacy Practice and Development department of the Pharmacy Services Program to an engagement session on Medicine Price Control. The Malaysian Productivity Corporation also did a presentation on the Cost Benefit Analysis that they performed at the engagement session. Following the session a few weeks was given for feedback on the matter via the government's United Public Consultation website. MAPS thanks all members who gave feedback.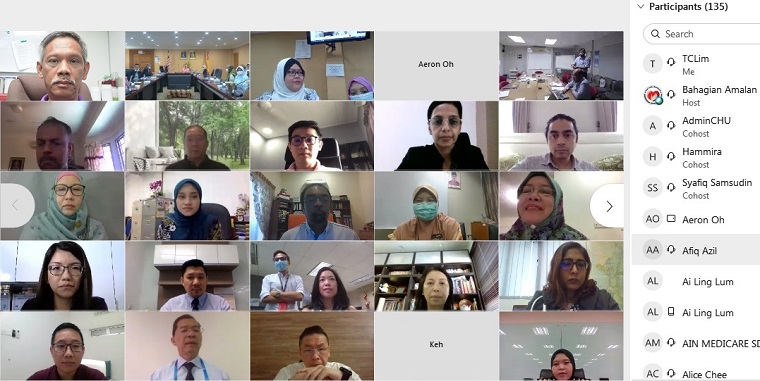 View Archived News
June 2012 and earlier
July 2012 - Dec 2012
Jan 2013 - June 2013
Jul 2013 - June 2014
Jul 2014 - Nov 2014
Dec 2014 - Jul 2016
Aug 2016 - Dec 2017
Jan 2018 - Dec 2020